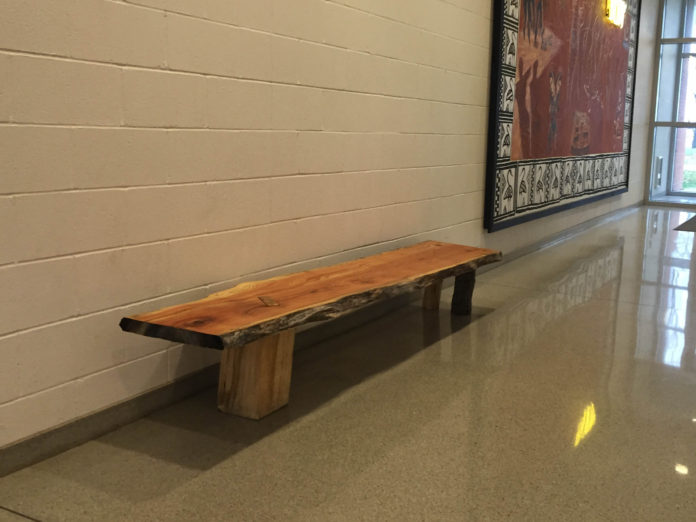 Though Hoover Hall now rises about East College lawn, in its place once towered a handful of trees.
Despite being cut down to make way for the new dining facility, the tree's have managed to find a second life on DePauw's campus.
In 2014, the Department of Art History and the Office of Sustainability acquired these trees and collaborated with members of the faculty and staff on a series of campus initiatives to repurpose the wood.
Chair of the Art and Art History Department and Associate Professor of Art and Art History, Lori Miles, was a leader behind these initiatives and sent a email informing faculty and staff about the Trees of Hoover Project in September 2015.
"Professor Lori Miles has led this effort and done some really great things," said President Mark McCoy, speaking about the historical relevance of the project.
A variety of the initiatives to repurpose the trees have impacted multiple academic departments and several faculty members were able to oversee and fund many of the projects.
One of the first projects provided the Biology Department with several tree ring sections for laboratory exercises. The second phase of the Trees of Hoover Project included milling the trees into usable lumber which created more than 2000 board feet of local hardwood. This wood is currently available to students, carpenters, woodworkers and artists of the DePauw Community.
Studio and Woodshop Manager and Gallery Assistant at Peeler, Gerald Bates, has used this wood to create frames, benches and to construct a new base for the Lincoln Memorial Statue that currently resides on the second floor of Harrison Hall.
"For Lincoln I tried to find everything [wood] that had no knots, no spalt, that was clean, and it was pretty rare in that pile," Bates said. "I really had to look."
The Lincoln Memorial statue is one of nine existing copies originally sculpted by American artist Daniel Chester French. Other copies of this statue can be found at the Art Institute of Chicago, Harvard Art Museum and the Massachusetts Historical Society.
A wooden frame created by Bates from the milled wood currently hangs in President McCoy's office.
"Rather than just letting those trees die, some forward-thinking art folks thought they could preserve them in a meaningful way," said McCoy. "I am thrilled they have done it."
Bates also helped lead the third phase of the project, creating benches for the DePauw Nature park out of the branches and stumps of the trees. Bates and Miles worked with alumnus Jacob Stanley '05 to bring Lindenwood University and DePauw University students together in September 2015 for a woodworking weekend. The process was a collaborative effort, lasting two days and taking place in the old intramural fields close to the DePauw Nature Park.
"Usually you just want a round log to cut it into boards, but we cut things that had branches and curves and different nuances to it, stuff which you just can't get or won't find at Lowes," said Bates.
Thirteen benches were created by students during the weekend workshop. These benches have continued to dry since last fall and will be distributed throughout the trails and in the sculpture part of the nature park. One finished bench currently sits in the hallway outside of the Peeler Auditorium.
Miles confirmed in an email that less than $900 was spent completing the series of the Hoover Tree Project with the help and collaboration of students, faculty and staff.