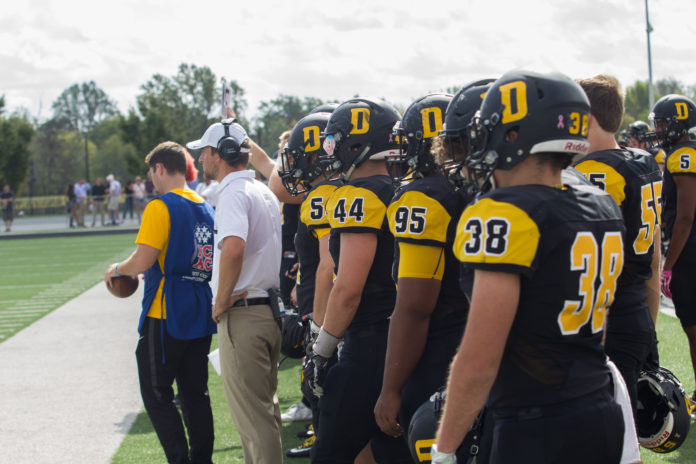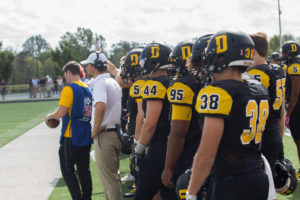 On Old Gold Day, the Tigers won a pivotal matchup at home against Oberlin College, improving their record to 5-0 on the year. DePauw grasped the lead early and did not look back as the defense guided the team to a commanding 26-10 victory over the Yeomen.
The first offensive possession of the game for the Yeomen resulted in an interception by sophomore defensive back Connor Mullin, who took it back 12-yards to the Oberlin 22-yard line.
The Tigers offense was able to capitalize by notching three points onto the board after a 28-yard field goal by junior kicker Jake Tanner.
A common theme thus far this season has been the outstanding play of the Tigers' defense, who held the Yeomen to only 164 yards of total offense on the day.
The big defensive play in the game came when junior outside linebacker Harry Bell sacked Oberlin's quarterback Zach Taylor for a safety, establishing the lead at 19-3.
"We are always blitzing a different linebacker every play. Our goal is to confuse the offense with our defensive schemes and to always provide constant pressure on the quarterback," Bell said.
Junior wide receiver Andy Hunt continues to shine as he added two more touchdowns to his resume. One of which came on a 58-yard punt return for a touchdown with 9:08 left in the first quarter.
"He is a playmaker who can score in a variety of ways. Andy is not only effective in catching the football, but in running and making plays after the catch with his feet as well. He has been this good since he was a freshman," Head Coach Bill Lynch said.
For a second week in a row, DePauw's rushing attack was the difference maker. The offense as a whole rushed for 193 yards on 54 attempts. On a day where the wind played a factor in the passing game, the offense was able to grind out the clock on the ground.
"Whenever you were going against the wind it really affected the game. It was important when you had the ball with the wind to use as much clock as you could. We did a great job running the ball in doing so," Lynch said.
Senior quarterback Jake Lasky and first-year quarterback Cam Haynes split time in the first game without the injured junior Matt Labus. They both combined for 99 yards and two touchdowns, with Lasky adding 17 carries for 84-yards as well.
"We have a very experienced offensive line that plays hard all four quarters," Lasky said. "They wore Oberlin's defense out and controlled the line of scrimmage throughout the entire game."
The Tigers look to remain undefeated as they head to Denison University (3-2) this upcoming weekend in Granville, Ohio.