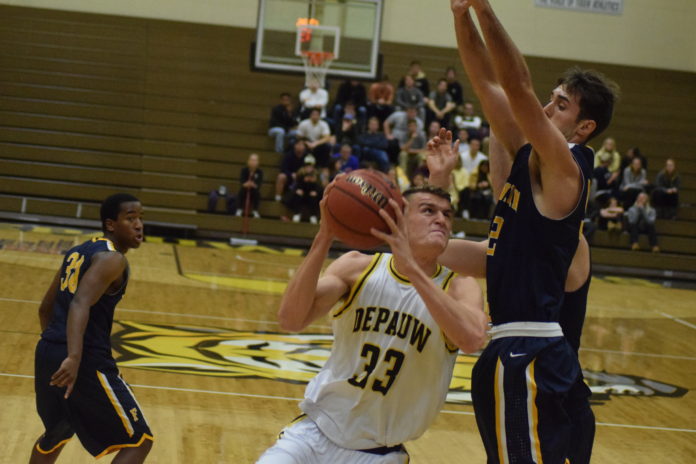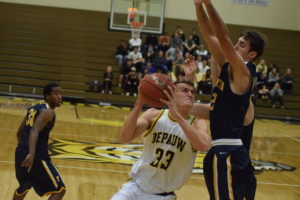 The 2017-18 DePauw men's basketball season is underway and the Tigers are off to a (1-2) start. After opening the season with a 90-72 win over Franklin University, the Tigers have dropped two games in a row to the likes of Wheaton College and the University of Wisconsin River-Falls.
However, the Tigers put up a solid effort against UWRF a preseason No. 10 team in the country. DePauw forced an overtime affair against the Falcons, who were ultimately able to come from behind and edge out the Tigers by a final score of 72-69.
"It is good to see after a close game like that, as a team, we are able to compete with just about anyone," sophomore guard Luke Steinhart said. "Moving forward, we want to be able to put all of the pieces together so when conference play rolls around, we are able to compete with the best of the best."
Senior guard David Vogel led the team with 17 points, to go along with four rebounds and four assists. Senior forward Jack VandeMerkt added 14 points of his own. They served as the only two Tigers in double figures during the contest.
To begin the game, the Tigers jumped out to a 14-2 lead. Following the encouraging start, the Falcons were able to lead a charge of their own by cutting down the score to two heading into halftime 29-27.
The game changer for the day was the Falcons' bench. The UWRFWis. River-Falls bench outscored the Tigers bench 38-16 while the team was also outrebounded 46-36.
"We definitely need to work on our defense and our rebounding," Vogel said. "Those have been areas of improvement for us since the season started, and we have to keep working at that every day." Vogel has served as the main scoring threat for the Tigers thus far by averaging just over 17 points a game (17.3).
Even though it is early in the season, the Tigers have their eyes set on big goals.
"Our goal for the season is to get a top-4 seed in conference and host the opening round of the tournament, then go and compete for a conference championship," Vogel said.
DePauw (1-2) hosts the visiting Rose-Hulman Institute of Technology Fightin' Engineers on Nov. 29 before opening conference play against Ohio Wesleyan on Dec. 2.