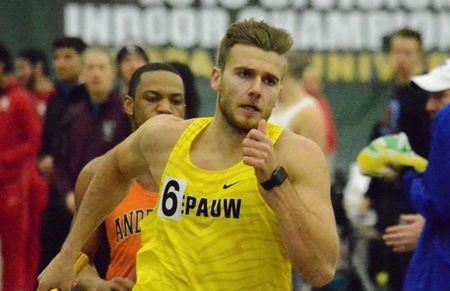 Tiger of the Week: Chase Wright
Hometown: Lebanon, Indiana
Grade: Junior
Major: Economics
"Chase is a student of the sport, which makes coaching him fun. He is coachable and strives to get faster and stronger, so he is willing to trust the training and get the work done. I am excited to see what he will accomplish in the rest of his running career and as a strong student." - Megan Mannering, assistant track and field coach
Junior Chase Wright competed in the Big Red Invitational at Denison University last Friday. At the meet, Wright collected a pair of wins in the 100 meters (11.12 seconds) and 200 meters (22.66 seconds).
The DePauw (TDP): How did you get into running as a competitive sport?
Chase Wright (CW): I started in seventh grade, because I wasn't that great at golf, and I had always been quick as a kid.
TDP: What have you done to improve your time over your last few seasons?
CW: I have really buckled down on my nutrition, lifting schedule and preseason workouts.
TDP: What were some of your goals for this season?
CW: A few goals I had were to break the 100-meter school record and to win conference in one of my events.
TDP: Looking forward to conference, what part of your running are you focusing on?
CW: I am first and foremost focusing on making finals, and then really concentrating on putting the race together that I know I can in order to bring home a victory.
TDP: Do you have any pre-race rituals?
CW: I start every race the same way. I have a pre-race block ritual, where I do the same couple movements prior to getting into the blocks that really calm me down and get me focused.
TDP: Why did you choose to run at DePauw?
CW: The school is a great academic school, I liked the coaches and I got a large academic scholarship offer.
Wright and the men's track and field team will compete this weekend in the North Coast Athletic Conference Championship meet at Allegheny College.