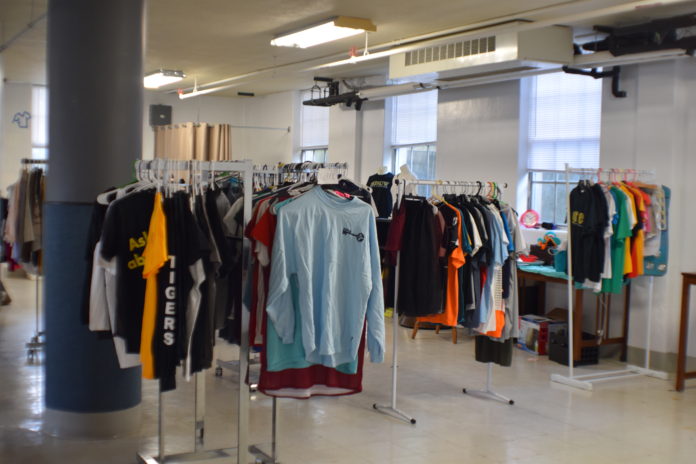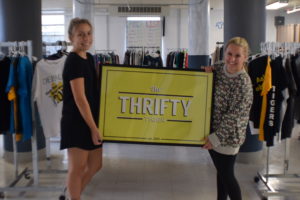 According to weardonaterecycle.org, every year the United States throws out millions of used articles of clothing in preparation for new ones, which leads to the production of approximately 21 billion pounds of post-consumer textile waste.
With this number expected to rise to 35.4 billion pounds annually, having sustainable clothing options is more important than before. DePauw is doing its part to minimize its environmental impact through the implementation of the Thrifty Tiger store.
"It's just a way for students to really get connected with sustainable practices on campus," said the project manager, junior Regan Giesting.
The Thrifty Tiger project began three years ago, according to junior Anna Werkowski who co-manages the Thrifty Tiger with Giesting.. It started as a small group within the Sustainability Leadership Program, when members noticed that more could be done to make move-out day more sustainable.
The Thrifty Tiger provides donation boxes in residence halls, sororities and fraternities to increase clothing sustainability during move-out day. Geisting said that the Thrifty Tiger has plans to place permanent donation boxes throughout campus in the future to accept donations year-round.
The program also works to help students financially. "Our goal is to make clothes affordable for college students," Werkowski said. "It is clothes on a college budget. We don't want you to have to go to the bookstore and buy a $75 sweatshirt when you can come to us and get it for $5."
In the few years that the thrift store has been running on campus, the managers have taken it from a "really small" business to a "thriving" one through the use of social-media advertising and trial and error, Werkowski said.
"I feel like we've been here long enough where we have the space, and we've seen what has not worked in the past and know we need to promote [our business] more," Werkowski said. "We need to really work with students...and gear our stuff toward student activities, so we're gearing merchandise toward parties and Halloween where we know students are going to need clothes for that."
The Thrifty Tiger's long-term goal is to become a household name within the DePauw community. "One of the things that we really want is for students to just come down (to the store], not just to shop, but to hang out," Giesting said. "[We're] just trying to make it a thing that's on campus that students actually know about."
Sophomore and Thrifty Tiger customer Rachel Moore thinks the store has a fantastic atmosphere. "It has a great selection of items for students to choose from, and it's all very well organized," Moore said. "I would definitely recommend any DePauw student to shop at the Thrifty Tiger because [it] is a great model for sustainability. It's also a way for DePauw students to get affordable clothing and spirit wear."
The shop is currently open on Tuesdays from 2 to 6 p.m. in the basement of Mason Hall. The project managers, however, are working with facilities to provide students with Saturday access.
The Thrifty Tiger is a perfect place for students to find affordable clothing while helping the environment.
"You can wear something awesome," Werkowski said, "and it doesn't matter that it's already been worn because, really, that's the best kind of clothing because you already know someone was cool enough to wear it."