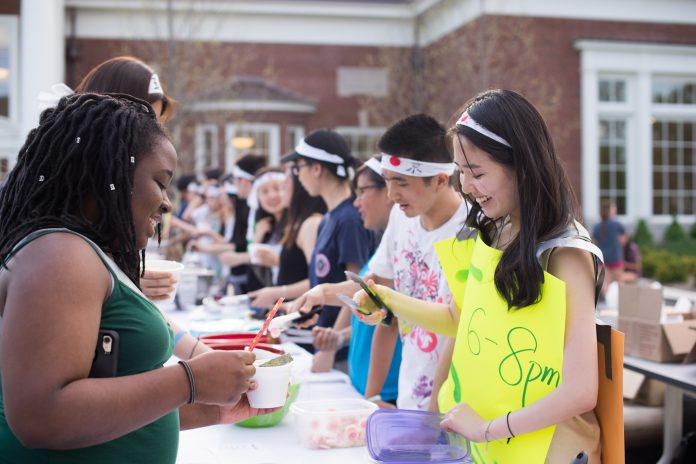 A line of hungry students stood in Stewart plaza with several choices in front of them: two types of noodle, five soups, five toppings, a choice between chopsticks and a fork. On Sunday evening, the Japanese Club's (JClub) third annual Ramen Festival offered various tastes of Japan.
Ramen, noodle soup developed under the influence of the Chinese cuisine, is one of the most popular Japanese dishes overseas. JClub has been trying to introduce genuine style ramen to DePauw for the past two years. This year, over 400 servings of noodles filled the stomachs of hungry students gathered for a free dinner.
Five different soups were available: shoyu (soy sauce), miso (soy paste), salt, tonkotsu (pork broth) and a creamy vegan option. A dozen boxes of noodles from an international market in Indianapolis went to pots while sliced pork belly from Myers Market was put as an optional topping. "I was surprised and glad when clerks at Myers' Market told me that they wanted to come to the festival," said the president of JClub, sophomore Minami Suzuki. The club members and volunteers wore hachimaki (headbands) while serving students.
As an executive member of the club, junior Lexie Schwipps was guiding the snaking line in front of the ramen bar. "Hearing how much they enjoy the food really makes all of the work that goes into putting it together more than worth it," Schwipps said. "The event was fantastic."
First-year Tim Murchison said that some authentic aspects, like toppings and flavor variety, made his meal more enjoyable. "I thought the event was really cool to see how Japanese culture is like," said Murchison.
According to Suzuki, JClub is a place for everyone to interact with others from different communities through Japanese culture. "Our ramen festival has successfully embodied this value," Suzuki said.
Founder of JClub, Kazuki Hanado '17, explained the concepts of culture and community further. "To get together, to understand and support each other beyond the differences of race and nationality through the shared interests in culture," Hanado said. With the recent occurrences on campus in mind, Hanado appreciates the club's "efforts to change the issues of Depauw," lasting after her graduation.
After the cleanup, the retiring president Suzuki said, "I really hope that our club will continue to grow as a diverse and welcoming space at DePauw."