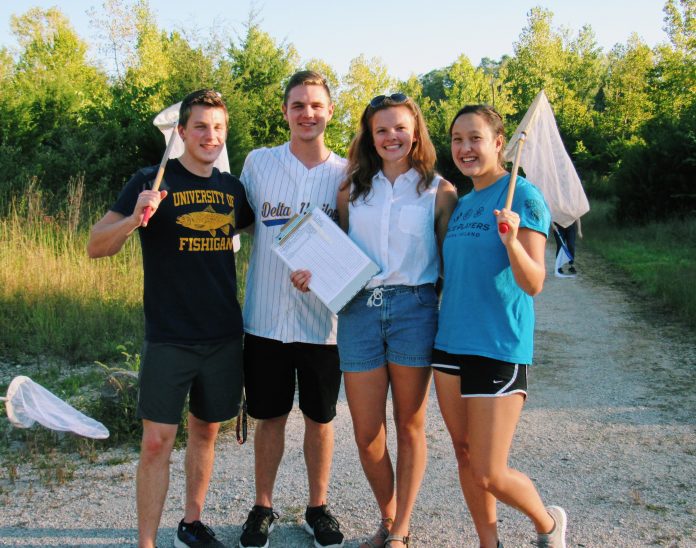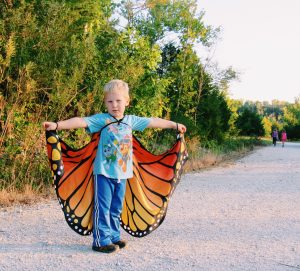 Parents, children and students alike grabbed nets and set out to catch monarchs this past Thursday at the DePauw Nature Park. The two-fold event was not only for goers to catch, tag and learn about monarchs, but also to celebrate the park achieving Gold Level Sustainable Trail Certification through the Indiana Wildlife Federation.
According to the Indiana Wildlife Federation website, the Certified Sustainable Trails program helps to encourage the development of trails into sustainable and prospering habitats that are easy to care for, offer benefits to trail users, and promote the conservation of local wildlife by connecting people with the environment. Now that the Nature Park has its gold certification, there is proof that efforts toward protecting the park have truly been worthwhile.
Malorie Imhoff, the director of the Center for Sustainability at DePauw University, said that the Nature Park received gold certification–– the highest honor–– after completing the Indiana Wildlife Federation's application process. Imhoff shared the reason for the event is to "celebrate the good work that's being done here and also do it in a way that's educational and fun and informative."
Upwards of 50 people came out to support the park's efforts and learn more about conservation. Many children especially loved having the opportunity to catch and tag monarchs. Clara Everett (9) said, "Getting to go off the path to catch butterflies was fun. I'm normally not allowed to do that." She talked about what it was like to catch a monarch and said, "when you see a butterfly, the excitement that gets in me. And when I catch it, when I try to catch it, it's fun."
Besides catching and tagging butterflies, event goers could dress up in monarch butterfly and caterpillar costumes. DePauw sophomore Laura Spasske had a great time getting to try on the costumes. "I put on the caterpillar suit, highlight of my day," said Spasske. Guests could also take pictures in front of a giant monarch caterpillar backdrop (with or without a colorful costume on).
And if there were not already enough monarchs for everyone to enjoy, there was even a monarch temporary tattoo station. By the end of the event, monarchs–– and matching tattoos–– could be seen all around the park.
A small stand featuring a bright and colorful assortment of peppers and gourds from DePauw's Ullem campus farm were available for anyone to take at no cost. Imhoff also oversees the campus farm, and believes food is another great way to connect people to the environment. "I think the environment just connects so many things that people care about. I mean everyone loves being outside. Everyone eats food. It's a way that connects to every single person," said Imhoff.
Spasske commented that the park's recent gold certification is a wonderful achievement. "It's such a great experience just to be able to come out here, take a walk, run, or do events like these because it really connects us with the world around us," said Spasske.
First-year student Hayden Turitto, said that she was glad to see "how close knit the Nature Park is with DePauw. It kind of made me realize that there are other things to do on campus and to see around."
Imhoff encourages everyone to spend time outdoors and enjoy nature. Whether that means taking a walk through the Nature Park or riding a bike around campus, people should "get outside and enjoy what's around us."