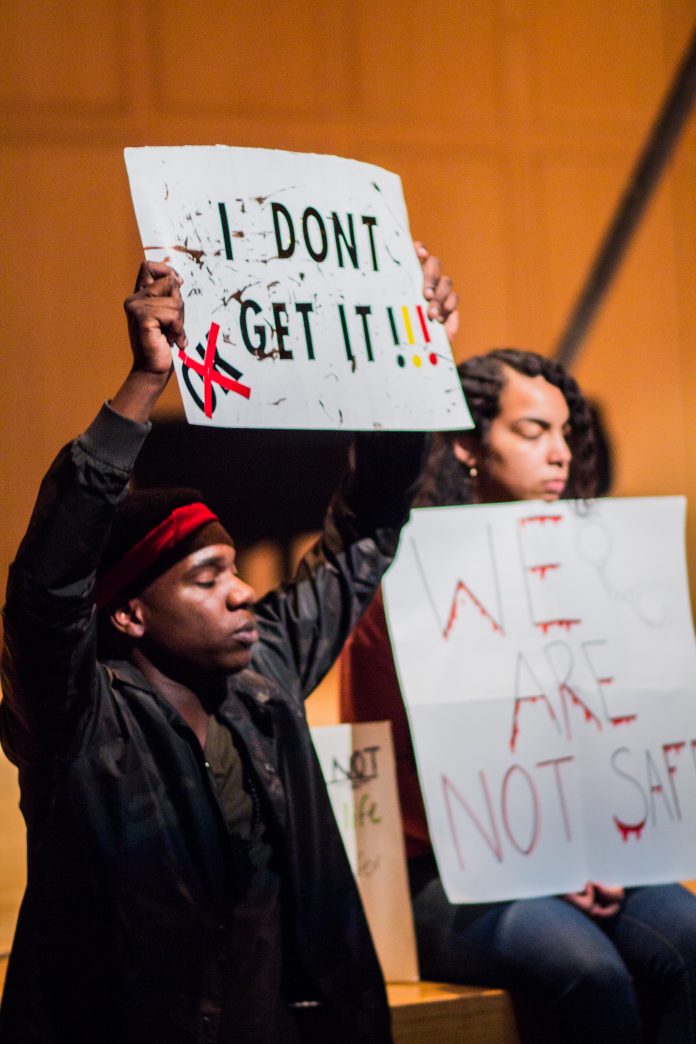 DePauw student activists halted Jenna Fischer's Ubben Lecture Tuesday night in Kresge Auditorium, unfurling a banner that said "We are not safe #DePauwKKK."
The students were reacting to a series of racial bias incidents and graffiti that have appeared on DePauw's campus in the last week.
As a whistle blew, students began to stand up and shout, "I am not safe. We are not safe."
Fischer, who is best known for her role as Pam in 'The Office' began to tear up. "I am moved," she said.
Students addressed Fischer directly, asking if she knew the extent of the situation on campus, which included graffiti in two locations on campus, saying, "All n******* must die -KKK" and a swastika on a bathroom door. Public Safety is investigating these incidents.
Students carried signs, one said "Where's the black in black and gold?" and "I should not fear for my life while striving for my education."
The protest began about 15 minutes into Fischer's presentation with moderator Ken Owen, special advisor to the president. Students demonstrated for roughly 20 minutes and then left.
Before the students left, Fischer spoke again, "Oftentimes justice requires interruption and disruption of our scheduled lives."
President Mark McCoy was sitting near the front of the lecture, but did not speak until after the students left. Using a microphone, he addressed the audience who was left and apologized to Fischer.