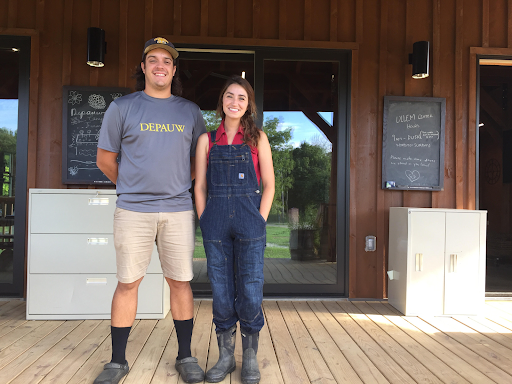 Tucked behind the athletic facilities, over the train tracks, and beyond the beaten path to the Nature Park, lies the Ullem Campus Farm. Originally on a one-acre plot near the Prindle Institute, DePauw's Campus Farm relocated to the fenced in 12-acre property two years ago. The location includes a 3-acre farm, greenhouse, hoop house, experimental field, permaculture garden and the newly constructed Ullem Center for Sustainability.
Located on 1138 West Walnut St., the Ullem Center for Sustainability, offers DePauw students the unique opportunity to learn about and engage with sustainability.
Members of the DePauw Sustainability Leadership Program (SLP) and volunteers, such as sophomore Michael Aikin, can be found practicing sustainable, alternative agriculture techniques.
"I learned that organic, low till and no till farming is hard. Without using complex machinery and pesticides, we were left to do most of the work by hand. On top of that, weather conditions are not always the best, which can ruin a lot of the crop. That being said, the manual labor was still very rewarding," Aikin said.
The new Center for Sustainability contains environmentally-friendly features such as a large fan instead of conventional air conditioning, solar panels to power  the building's radiant heating system, LED lighting to conserve energy, low-flow sinks and toilets to conserve water and high-efficiency appliances. The spacious, barn-like building was built with locally sourced wood. Surrounding landscaping features edible, medicinal and pollinator-friendly plantings.
"It's a quiet spot for people to be out here, be comfortable, be near nature and to get away from campus," said Malorie Garbe, director. "We've seen a lot of people out here studying. It's a really quiet study spot."
The building also offers a fully stocked kitchen for students to use.
"We hope that the kitchen will be utilized by students to make food if they don't have a space otherwise. We'll also be using the kitchen for workshops and classes to utilize the fresh produce from the farm," Garbe said. 
Farm intern Emma Wittkowski already has plans to use the new kitchen. "I'm excited to use the produce we collect on the farm and make dinners with it for the SLP group and maybe even the community," Wittkowski said. 
Joseph Garbe, farm manager, said the farm has also made changes regarding alternative agriculture techniques. The farm's wash-and-pack facility provides a space to safely wash and store harvested vegetables. These new and alternative techniques include polyurethane tarps that reduce tilling, help mulch land and kill weeds, in addition to a small walk-behind two-wheel tractor to establish more permanent bed systems.
"I'm excited for everyone to see the building more and just get out here, especially because it's not on the common path for DePauw. I'd love to see more and more people out here!" Garbe said.
The Ullem Center for Sustainability is open from 9 a.m. to dusk, Monday through Sunday. On Tuesdays and Thursdays from 9 a.m. to 11 a.m. students and community members are welcome to come volunteer.