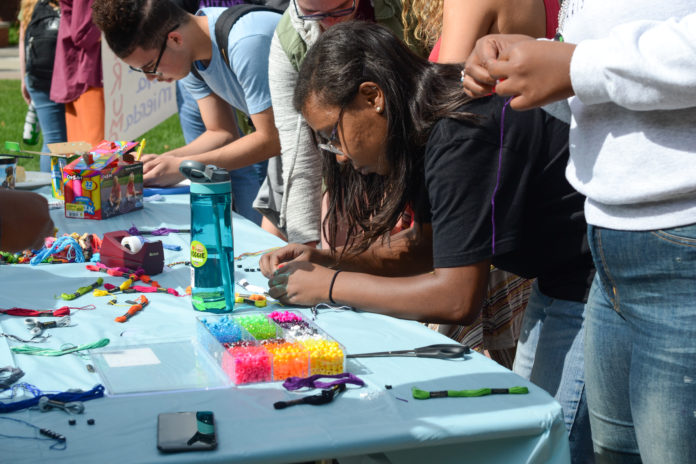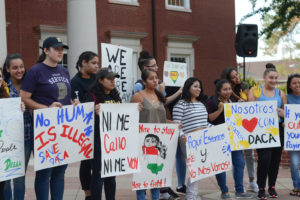 The DePauw University community responded to President Donald Trump's decision to repeal Deferred Action for Childhood Arrivals (DACA) and stood in solidarity with undocumented students Tuesday afternoon in the Academic Quad.
The gathering offered informational tables, food, and crafts for students that attended the event. Students also performed spoken word poetry. The event provided an open forum for questions and concerns about DACA. "It was a difficult day for many people to hear what Trump and his administration did," sophomore Giselle Villegas said. "The love that came [despite] his actions is wonderful and to see the support is remarkable."
DACA is a two-year program former President Barack Obama enacted through presidential executive action. It allows people with undocumented status to get a drivers license, work and attend school in the United States, without the fear of deportation.
Aliza Frame, a student immigration advocate, said DACA allows people to come out of the shadows and live a life without fear and instability. "The repeal of DACA will make students question if they can continue their schooling or work-study," Frame said.
For the safety of undocumented students, University officials will not disclose the amount of DePauw students under DACA.
A DePauw student who wishes to remain anonymous because they are undocumented wants to feel welcomed into the community. "It's a University that I chose to attend because I love the academics and the atmosphere," they said. "I give a lot to this community and I want to receive that same respect and support."
Glen Kuecker, professor of history, said students become worried and concerned about what they have to do to sustain their community while being a student. "The capacity to perform goes down because you're focused on other things," said Kueker. "The white student does not carry that burden as a student at DePauw University."
The anonymous student is hurt from the repeal of DACA. "I see a lot of drastic life changes. I see a lot of 'how will I continue my education and work study?'," they said. "How will I do all of these things being a member of the community while not being a member of the community?"
According to Myrna Hernandez, dean of students, there is a plan in place to support the students who are directly impacted. "Students who need help can work with Aliza Frame to receive a personalized plan on what to do," Hernandez said. According to Frame, students can get these services in the Center for Diversity and Inclusion (CDI).
DePauw University President Mark McCoy said he was very disappointed by the decision. "It's now in the hands of Congress and we all need to do everything in our power to influence that decision," President McCoy said. Kuecker believes the institution has to remain committed to doing the hard work.
Hernandez said U.S. Immigration and Customs Enforcement (ICE) has jurisdiction on this campus with a legal warrant. However, ICE has yet to enter a university in Indiana. Frame said the University has to abide by the law and understand the various scenarios that may happen.
In February, students protested for DePauw to claim sanctuary status to protect the students under DACA. "I feel like the support struggled at the beginning because it was an unheard of situation; it wasn't a responsibility for the school to know," the anonymous student said.
The student believes DePauw has a bigger responsibility to DACA and undocumented students now because of the repeal. "They have accepted the students into their community and they allow these students to thrive in these environments," said the anonymous student. "I feel like because of that, they should support them."
Kuecker feels it is important for the DePauw community to talk about DACA and its effect on campus. "The issue is important so that people can understand and come to terms with the reality that we are an apartheid nation," Kuecker said.
The student has a hope for Congress to follow up with something similar to DACA or something better. "It would be a life-changing experience for myself and many other students on campus," they said.
Congress has proposed the Bridge Act, which will allow people who are eligible for temporary relief through DACA to continue living in the U.S with permission from the federal government. McCoy said in an email sent to the DePauw community that, "he is encouraged by the bipartisan proposal of the Bridge Act."
Kuecker understands the purpose behind the Bridge Act, but he believes it is still running away from the bigger issue. "It's a political unwillingness to address the deeper structural issues," Kuecker said. "It doesn't solve anything, but instead it reproduces the systemic nature of marginal oppression."
The anonymous student said they want to provide these spaces so other undocumented students know they are welcome in this community and they deserve to be on campus. Frame said there is ongoing programming for students to engage in and learn more about undocumented status.
DACA is a resource for students because it gives them the opportunity to live in a familiar environment without fear. "As someone who has identified within the American culture and has grown up in the American culture, it's difficult to be told you're not here yet," the anonymous student said. "DACA was one of those things that made me feel that I was a part of the community even though I didn't have the legal status."