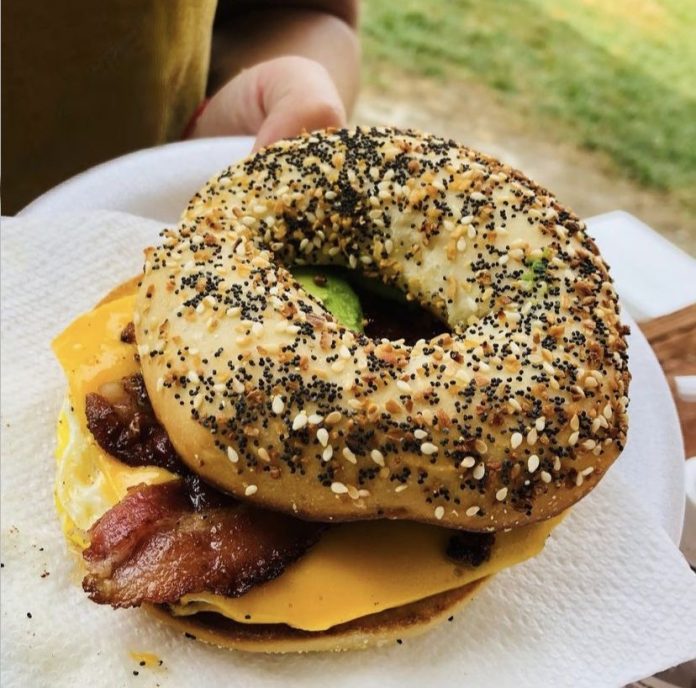 Some Students on-campus may have already gotten word about Stein's Bagels. If not, Stein's might have popped up on your Instagram feed once or twice, or you might have observed Beta's side garden getting suspiciously crowded on Friday mornings. For many, this new breakfast spot has appeared seemingly out of thin air. Who are the students making these bagels? How did they turn Beta's shed into a space deemed suitable for food service by the health department? How did they get DePauw's permission to do this? Well, in order to get the full rundown, we interviewed the man Stein himself.
Jack Rutstein '24 was inspired to make and sell bagels at DePauw after he embarked on a series of drives to and from Indianapolis just to satisfy his craving for a good bagel. "I wanted to make and sell bagels on DePauw's campus because there was no real New York style bagel anywhere near here. I had to drive to Indy whenever I wanted bagels," Rutstein said. "Bagels are something that remind me of my Jewish heritage and are something I always had at home. So I thought, why not be the first person to bring them to DePauw?"
Rutstein did extensive research on potential locations before he ultimately decided to set up shop in the side garden shed of his fraternity, Beta Theta Pi. Operating on property owned by the fraternity and not DePauw has worked out in Stein's favor. Since Stein's Bagels is not affiliated with the university, they did not need the school's permission to open Stein's, nor can the school force them to close.
"The school can't stop us from selling as long as we have a permit from the food department to sell. It also has nothing to do with my fraternity. It just happens to be located in the side garden of the fraternity, so there's no representation in relation to the deposit," Rutstein said. "I'm legally allowed to sell by the food department. I was cleared by the health department, and all my employees are surfaced, certified, and have their food handler's license."
In order for Stein's Bagels to be legally owned and operated as an independent company, Rutstein had to pay to make Stein's Bagels an LLC, to get certified by the health department, to get certified as a food vendor, and other various regulatory expenses.
Stein's is owned and operated by Jack alongside his employees and fellow Beta brothers, Juniors Spencer Boyd and Robbie Sheffield, and Seniors Ethan Spencer and Garrett Elkins, to which he accredits much of Stein's success.
"This did start as a solo venture, but those four are my employees, and they're working hard. One's on the griddle, one's on the bagels, one's on the veggies. I'm taking tickets," Rutstein said. "We're a good team, and we're a fast team. You've got to come out and see us! Shout out to them! It started as a solo venture, but I couldn't have done it without them."
So how are Stein's bagels made? Well first, the dough is imported from The Bagel Fair in Indianapolis. Once the dough arrives at Beta Theta Pi, it is taken to the fraternities' full commercial kitchen. The bagels are then boiled in an industrial boiler to set their crust.
"I had to buy a massive boiler that controls the temperature so that when you boil the bagel before it's baked, it doesn't blow up and get too big," Rutstein explained.
Once baked, the bagels are breaded in their crust and receive special dressings.
Stein's offers five different bagel varieties: Egg, which is just a plain bagel, sesame and everything bagels are $2 a piece. Asiago and cinnamon sugar bagels are $2.50 each. Along with the bagels, you can add cream cheese and choose from a list of add-on ingredients. For an extra $4, you can try Stein's famous caffeinated bagel while supplies last. For students looking to have a bite, Rutstein recommends the cinnamon sugar bagel, made with their homemade sugar-butter mix and paired with their apple pie filling spread.
"It's under $5, and it's incredibly tasty!" Rutstein added.
Stein's Bagels recently made their campus debut with their first Bagel Friday, where they made almost $700 in bagel sales.
"Our first day, we sold just under 200 bagels, and we think we can continue to sell about 150 bagels every Friday. Yeah, that's a lot of bagels," Rutstein said.
Though his business shows some potential to return a profit, Jack makes it very clear that his venture into the bagel industry has nothing to do with money.
"It's not really about the money. All the money is just going back into the product. In the end, it's just about having fun and being able to sell to my friends and meeting new people and bringing bagels back to Greencastle," Rutstein said.
If you would like to check out Stein's Bagels, they are open Friday mornings from 8-11:30 a.m. and located in the side garden of the Beta Theta Pi fraternity on Anderson Street.
You can also check out Stein's at the Greencastle First Friday fair, which takes place in the town square on the first Friday of every month. For more information about catering, pop-up shops, and Bagel Fridays you can follow Stein's on Instagram, @steinsgreencastle.