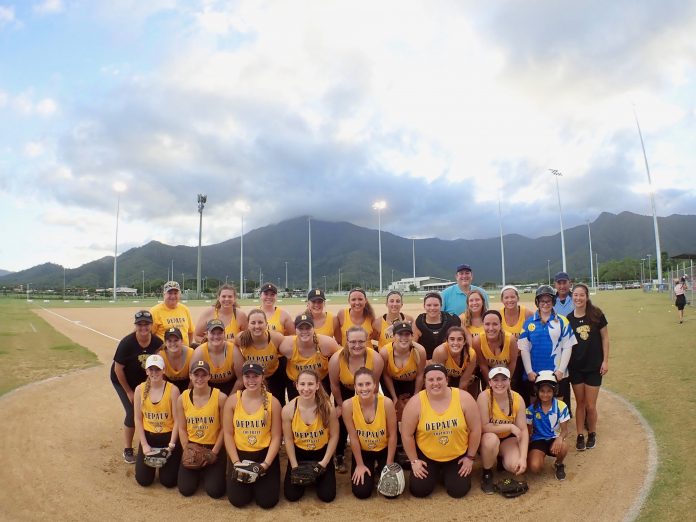 DePauw softball has gone all over the country to find new competition. This past January, the Tigers finally took their talents abroad.
The team spent three weeks in Australia playing competitively while studying the differences between sports in the U.S. and the Land Down Under. They had the chance to compete against some of the most talented 19-U club teams in the country, going an impressive 5-0-1.
"We got to see an Olympian pitcher who we'll get to see on TV in the Olympics when Australia goes," said softball Head Coach Erica Hanrahan. "She's someone who throws harder and has great movement, probably more than any pitcher we're going to see."
With the trip counting for partial credit, Kinesiology Professor Pat Babington attempted to help players relate their different majors to the world of sports. He took the team to the University of Queensland and the Australian Institute of Sport, where the country's Olympic athletes are housed.
The team also got a chance to sightsee, visiting the national zoo and the Great Barrier Reefs.
"Australia is a land that's meant to be explored on the outside. It's different than where a lot of people go to learn about history," Hanrahan said.
Junior outfield and second baseman Sarah Beischer agreed.
"It was just the trip of a lifetime," Beischer said, who also noted that the team got to bond in a number of ways. Amidst a bus breakdown and a number of Tiger players losing luggage, the players took a positive experience away from Australia.
With NCAA bylaws allowing teams to travel internationally every three years, Hanrahan hopes every one of her players will get the chance to compete in Australia during their DePauw careers.
"You're in a place that really celebrates the peaceful things in life, working together really well," Hanrahan said. "That's something we can bring back here.