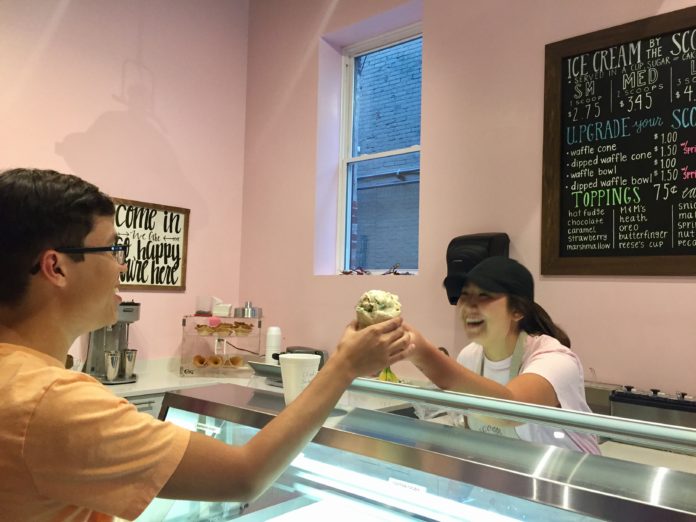 As a wafting sweet smell of vanilla hits their noses and bubblegum pink walls welcome their eyes, customers walking into Scoops Ice Cream Parlor on Indiana Street feel as if they are stepping into a scoop of cotton candy ice cream.
The pink walls and white trim are, in the words of owner Joan Earl, reminiscent of "a strawberry ice cream cone". The wall color is fitting, as Scoops serves both cotton candy and strawberry ice cream flavors. She and her family, including her two sisters and her young niece, picked out all the decor and hand-drew the signs to give it the special flair they hope is endearing to customers.
Earl, a retired grade school teacher, hadn't always dreamt of owning an ice cream shop. Originally, she wanted to open a bakery on DePauw's campus. "I love to bake. That's my thing," she said. But after the arrival of a new grandchild, she decided that running an ice cream shop instead would let her spend more time with her family. "I still get to do some baking; we make our own waffle cones, and I'll get to do some baking this winter when we incorporate some cookies in here," Earl said.
Last year, Earl retired after more than 25 years of teaching grade school in the Greencastle community. "I'm used to being around kids and being busy, busy, busy," Earl said. She and her husband, Bill, decided that opening an ice cream shop would be a good use of their time. "We got approached about maybe opening one downtown because they're working on bringing downtown back to life and so we said, 'yeah, we'll do that,'" Joan Earl said.
After all her years of teaching, Earl missed hanging around kids. She wants Scoops to become a mecca for kids of all ages to spend their time. "I like it when this place is full of kids, young or old," Earl said. "I really tried to load my ice cream with kid-friendly ice cream."
Earl reminisced on the times she spent at Fleenor's Drug Store as a young girl and wished to bring that same small-town spirit back to downtown Greencastle. "When I was growing up here, right on the corner where Conspire is, that was a drug store soda shop and soda fountain," Earl said. "After school, we would walk up to Fleenor's and sit in there and have ice cream."
The after-school trips to Fleenor's were "a daily thing" for Earl and her friends. She would like Scoops to become the same kind of haven for young kids. "Hopefully the kids will come in back down here," Earl said. "I know DePauw kids will walk by, but it's funny how many parents drive their kids here after school."
Fond childhood memories and nostalgia also drove the Earls in their naming of the shop, dubbed "Scoops" after her favorite ice cream shop near her parents' condo in Venice, Florida.
"What I love about [the Scoops in Florida] is it's just a little hole-in-the-wall... and they have the whole wall, everything in there, covered with... license plates from all over the United States," said Earl.
The quirky decor made an impression on the young Earl, and she wanted her place to have the same unique flavor that other children can remember. "We just loved that as kids, and we've taken our kids there, and that's what we remember," Earl said.
Earl wants to expand in the future, offering cookies in the winter and iced coffee in the spring. But she wants the main focus of the shop to be the hard-serve scoops of ice cream after which it is named. "It's an ice cream shop," Earl said. "I want to offer something else, but I want ice cream to be the focus of our shop."
Throughout the process, Earl has been surprised at the eager reception that the Greencastle community has offered to Scoops. "I never expected the crowds that we had," Earl said. "Our first First Friday event, they were out the door, down the sidewalk, all the way to Moore's Bar waiting to get in. I had to recruit Jackie from Moore's Bar to come help me dip that night."
But since that first night, Earl has prepared for the type of crowds she expects now that DePauw students are back on campus. "It's been so well-received, and we've been thankful for all the support from the town, and that the students I hope will be giving us when they get here," Earl said. "We're really excited about it."
On warm summer evenings, both DePauw students and Greencastle residents can be seen congregating outside the shop, eagerly devouring both their generous scoops of ice cream and the fresh night air. "It's amazing. Very delicious and well-priced," said Greencastle native Chris Rady as he chatted with his family over their single scoops and waffle cones.
Offering a unique spread of flavors like Turkish coffee, Lemoreo, and Twinkie at an affordable price, Scoops appeals to residents and college students alike. "I really like it. It's my first time trying it," said DePauw University sophomore Emma Krug. "It's really good, they have really creative flavors, it's not too expensive, and I'm just really loving it on this summer night."
Earl and her family are thrilled to offer Scoops as a way to develop downtown Greencastle and bring the community together. "We're just looking forward to DePauw kids getting back and coming in," She said.
The Earl family is "just happy to be here," Earl said, "happy to be part of this great expansion and bringing the town back to life."