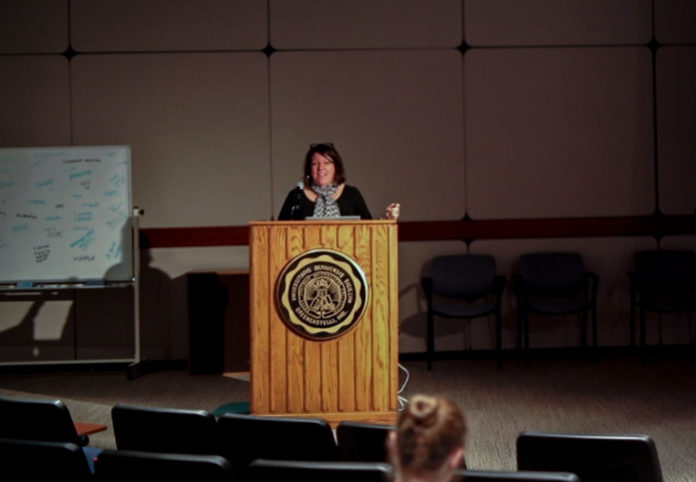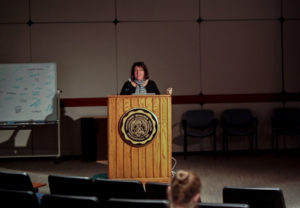 In today's digital age, understanding the ways in which people interact with and share media is becoming increasingly important. Sara Quinn, president of the Society for New Design, shared with students her research on how people process news, on Sept. 28.
Over the past 10 years, Quinn has studied how individuals interact with news by using "eye-tests," invisible infrared recordings that track eye movements across user content. She analyzes a variety of factors, such as whether individuals finish reading, if they get tired of reading, and if they remember what they have read.
In one of her studies, people were given 100 photographs by professional photographers and 100 photographs by amateur photographers in an effort to identify how people process quality images and how discerning they are of content. In her results, she found that not only do people recognize professional pictures, but they also equate quality photographs with context, emotion, and storytelling. "When you start to analyze what makes something interesting, it has to do with emotions: real things happening in real time," Quinn said.
Emily Galloway, a senior Media Fellow, wants to apply Quinn's research to a future career in advertising. Galloway was fascinated with how typography and capitalization can affect whether or not someone chooses to read an article. With Quinn's advice, Galloway hopes to create advertisements "that are visually pleasing and that people are actually going to read."
Quinn emphasized that readers are more likely to consume media that relates to them, saying, "People want to see themselves." Personal stories, interactive visuals, and charts are more likely to hold a reader's attention than large blocks of texts.
"Images make things more memorable," Quinn said. On the internet, it is important to catch individual's attention because even though people read a higher volume of text online, 78 seconds is the average bail out point where individuals decide to keep reading or move on. However, both young and old readers read deeply once they find content they are interested in.
Senior Media Fellow Sarah Redman, who is interested in design research, found the presentation to be very helpful, especially "as someone who is very interested in design and interested in visual aesthetics."
Similarly, Kantaro Kaniya, a first-year Media Fellow who designs for The DePauw, was eager to broaden his understanding of new design. The most impactful part of Quinn's talk for him was how meticulous attention to individuals' interests results in more readership. "It's so important to earn reader's attention….especially to maximize profits [for companies]," said Kaniya.
As Quinn described, "seeing often comes before words," making it crucial for news media outlets to first draw readers in visually and then hold their attention with engaging content.