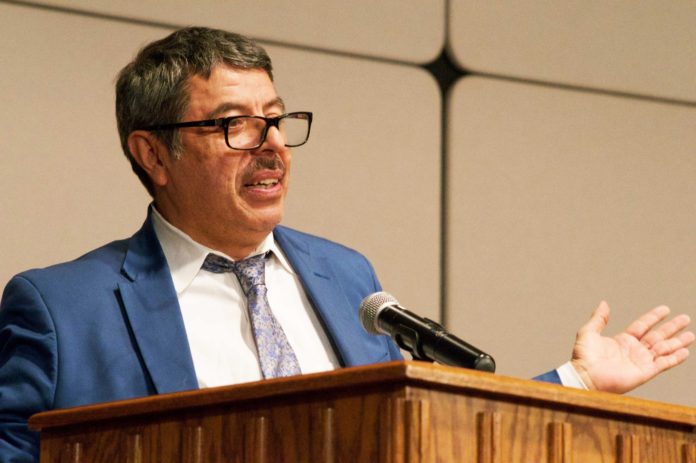 Addiction, corruption, and homicide are just a few of the issues Ruben Castaneda touched on during his talk about his prolific career in journalism at the Watson Forum this past Thursday.
   Currently a writer for US News & World Report, Castaneda spoke about his time at the Washington Post and the way it drove him to write "S Street Rising: Crack, Murder, and Redemption in D.C.."
    His experiences as an insider reporting on the scene of a drug wave inspired his book. "'S Street Rising' is a story of my descent into addiction while covering the crack wave, but it's more than that… It's the story of a city in crisis," Castaneda said. He struggled to uncover some of his "most reckless and selfish experiences, decisions, actions."
    Castaneda's interest with journalism started when he was a young boy growing up in the Los Angeles area. As an avid reader, his introduction to news came in the form of the sports section in the LA Times. Castaneda attributes his initial attraction to print news to the fact that "the paper had all sorts of amazing stories about Los Angeles, about people doing extraordinary things." He decided that a career as a news reporter would provide him with "a front row seat to history."
    And Castaneda got his front-row seat. When he started at the Washington Post in D.C., the city logged over 400 murders a year. "That was what D.C. was like at the time. There was something amazing and dramatic that happened every day," Castaneda said. While covering the crime scene behind D.C.'s crack epidemic in the 1980s, he succumbed to addiction himself.
    Years later, driven by pure curiosity, Castaneda starting interviewing locals on S Street, a hotspot for drug deals in the 1980s. "I wanted to tell a story that was about more than me, that was bigger than me," Castaneda said. "Something that told about the city, about the police, and about life on these streets where drugs had taken over." This desire to share the local story exemplifies Castaneda's passion for his craft.
     Castaneda called "S Street Rising" "a valentine to journalism." In an allusion to Donald Trump's efforts to discredit the media, he emphasized the necessity of journalism, which he says "is somewhat under assault right now from certain quarters, but I think is more important and more relevant than ever today."
    Although trends show the public's increasing reliance on social media for news rather than print media, Castaneda reassures young prospective reporters that some things will never change. "When it comes to reporting, I think that these things are still true and always will be: doing the work pays off. Talking to people, going to the scene – whether it's the scene of a crime or a courthouse hearing, pays off," Castaneda said. "Connecting with people is invaluable."
    Media Fellow and first-year Kira Singer absorbed this message enthusiastically. "I think today studying media, everyone tells you to get with the times, go online, and move that direction, and his idea of why you shouldn't get with the times, of being traditional, I personally like that better."
    Castaneda's advice for learning the craft aligned with DePauw's desire for a diverse, well-rounded liberal arts education. "I don't think that it's necessary to have a journalism degree in order to study it," Castaneda said. "I think it is important to have a well-rounded education and to be curious, and to want to know about the world."
    Castaneda's visit to DePauw is part of the Media Fellow's Speakers Series. Jay Klein, another first-year Media Fellow, expressed his appreciation for Castaneda's appearance at DePauw and for the Media Fellows Speaker Series. "I go to a bunch of different events around campus because of Media Fellows, and... I think that, for the most part, DePauw hosts really good speakers for whatever class they pertain to."
    Castaneda left his eager audience full of aspiring journalists with sage advice: "And for those students who might be pursuing this line of work, I'd say don't get discouraged if you have doors slammed in your face, if sources don't want to talk to you. Be professional. Be persistent. And just don't ever give up."