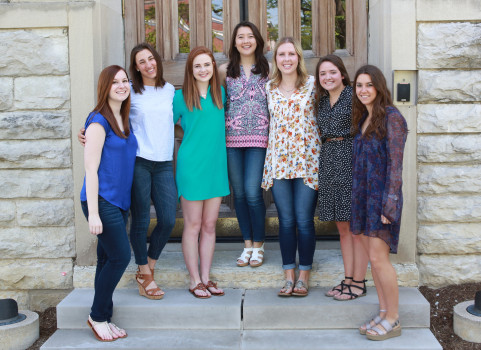 A Panhellenic Association proposal would hold first-year women accountable for violating the prohibition against visiting Greek property before the established date in the fall semester. The proposal, to be voted on Wednesday, would implement a "two-strike" policy.
Senior KJ Holden, vice president of recruitment for Panhellenic, said many people approached them at the beginning of the semester about first-year women being on Greek property before the Oct. 7 opening date. "There was no punishment for [going on Greek property] but there was always this thing of 'you shouldn't go on it'," Holden said.
Nick Stepaniak, Panhellenic Association advisor, said the proposed bylaw conversation started as students pointed out the inequalities after reading stories in The DePauw. "The rule has always been in place, but the part that we're voting on is about holding first-year women accountable," Stepaniak said.
The bylaw change mirrors the Interfraternity Council (IFC) strike system already in place. Stepaniak said IFC follows a three strike system. The first strike is a formal warning written in a letter. The second time a first-year male is seen on Greek property, a meeting is held with the vice president of IFC recruitment and the IFC advisor. If a first-year male is found a third time on Greek property, they are not allowed to go through formal recruitment.
Holden said the rule will help make IFC and Panhellenic equal and fair to each other in terms of punishment for doing the same thing. The DePauw reached out to IFC President, Nathaniel Reed in an email. Reed wrote back saying, "IFC will not be commenting on this because it is not our policy."
According to Holden, if passed, the bylaw would only be in effect for the period of time when first-year women are restricted from privately owned fraternity or sorority property. Holden also said Panhellenic members will not be specifically looking for first-year women who break the rule. "If someone anonymously sends Panhellenic or an upper authority a photo and we can see they're in a specific chapter, then we can find out who it is and send them the first warning," Holden said.
The proposed Panhellenic bylaw change is a two strike system. The first time a first-year woman is seen on Greek property they will meet with the vice president of recruitment of Panhellenic and receive a formal letter. The second time a first-year woman is caught, they will not be allowed to go through formal recruitment in the spring of their first year.
Holden said students who would not be allowed to go through recruitment after violating the Greek property rule, would be allowed to receive continuous open bids, starting the fall of their sophomore year. Students who do not go through formal recruitment do not sign a Membership Recruitment Acceptance Binding Agreement, MRABA, so they are eligible for open bids chapters might have in the succeeding fall semester.
Stepaniak said the main goal for the bylaw is to hold first-year women accountable for their actions. He also said Panhellenic wants to get away from the idea of "blacklisting." Blacklisting is the idea of one chapter creating a list of girls they do not want in their chapter. Stepaniak wants focus on not being able to go through the process as a whole. "We want it to be that, it's not that you're banned from a specific chapter," said Stepaniak, "it's that you can't go through the recruitment process your first year here."