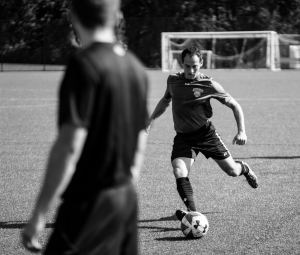 Being a full-time student-athlete is, inevitably, a time-commitment. However, many DePauw student-athletes take a "time out" to actively pursue their passions beyond the game. This past year, members of the men's soccer team have been doing just that with many players studying abroad and participating in off-campus internships.
The men's soccer players' participation in the local and global community is not only allowed, but encouraged by Head Men's Soccer Coach Brad Hauter. "I am thrilled with their involvement. I think it helps stretch them as individuals and they bring that energy and selflessness back to the team so we all benefit," Hauter said.
Last semester, senior Austin Bodner travelled to Christchurch, New Zealand to study at Canterbury University. There Bodner was given the opportunity to travel throughout New Zealand, Asia and Oceania, visiting landmarks such as Milford Sound in New Zealand, Bondi Beach in Australia and the Tsukiji Fish Market in Japan, all the while experiencing the vibrant cultures of these nations.
Bodner credited his trip abroad with allowing him to interact with new cultures and gain a different worldview. "The best skill I learned while abroad was being able to see similarities in all people in the world and find common ground to communicate and connect with everyone regardless of background," Bodner said.
In addition, senior William Chulick studied abroad at the University of Barcelona in Spain last semester. Chulick was in an immersion program where he lived with a host family and travelled around Europe studying Spanish and Economics. Amidst his studies, Chulick was given the chance to participate in unique experiences such as skydiving over the Swiss Alps.
Chulick highlighted that it was the unique activities and experiences he got to participate in that were foundational in determining what he gained from his trip abroad. "I learned how to be more comfortable in uncomfortable situations," Chulick said. "I also learned that there is much more to this world than Greencastle, Indiana and St. Louis, Missouri."
Junior Jay Klein also worked in an internship this summer, travelling to Tel Aviv, Israel to work in digital marketing. Klein was given the opportunity by an organization known as Onward Israel which provides Cincinnatians of Jewish heritage with free internships in Israel. In Tel-Aviv, Klein worked in the audio marketing department of a company called Media Shakers.
Klein credited the opportunity with giving him experience in a real working environment. "I had a lot of expectations and pressure put on me," Klein said. "I wasn't treated as an intern. I was treated as an active member of the company."
On a more local level, seniors Kyle Kopchak and Andrew Gold both worked internships in the Indianapolis area.
Last semester, Kopchak interned for the Office of Indianapolis Mayor Joe Hogsett. Kopchak was introduced to the internship by a teammate's dad whilst applying to another one. With the internship Kopchak worked as a communications intern, staffing mayor's events, helping to set up press conferences and helping to plan and execute community events.
Kopchak described himself as a major proponent of internships, describing the basic real-world skills like time management that one can learn in one. Kopchak also mentioned the value he got out of learning to interact with older individuals and learn from them.
Senior Andrew Gold took the time this summer to intern with Sports Psychologist Rob Bell of Fishers, Ind. Gold found out about the opportunity from his coach who works with Bell. Through the internship Gold was given the chance to work with athletes across the state, including NBA free agents and draft prospects, in a hands-on capacity.
"I gained a lot of insight into what a career in sport performance psychology and coaching entails." Gold said, "Additionally, I gained a whole new network of resources."
Assistant Coach Keagan Angevin added, "I am proud of the work our student athletes are able to be a part of and accomplish."
Men's Soccer has their next home game against Washington University in St. Louis on Friday at 7 p.m.