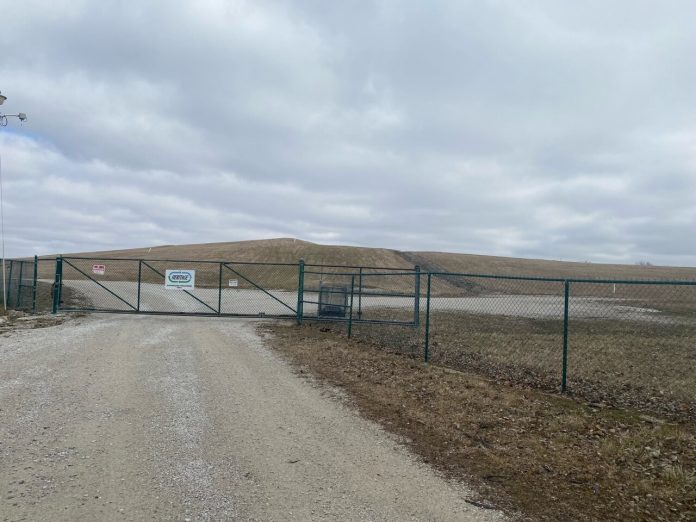 At the start of March, truckloads of hazardous materials from the train derailment in East Palestine, Ohio started to arrive in Putnam County. Just 20 minutes north of DePauw, Heritage Environmental Landfill is anticipated to receive a hundred truckloads of waste. The hazardous waste landfill has sparked controversy and fears alike among Greencastle residents and the DePauw community.
Senior and environmental biology major Aidan Power shared his concern over the issue.
"As someone of my major, it is a bad idea subjecting people to this level of pollution. It is bad enough for the beautiful ecosystems we have around this town. From a humanitarian standpoint, this is a case of creating negative health effects for a community that doesn't have the numbers to fight back," Power said.
Professor of geosciences and Director of Sustainability Jeanette Pope, Ph.D., described the situation in more depth.
"There are several known issues associated with landfills: soil contamination, groundwater contamination, surface water pollution, and air pollution. Because of these hazards, the EPA [Environmental Protection Agency] has several requirements for disposing of any waste, especially hazardous waste. Landfills in the U.S. must be built in to contain leaks (at least in the short term), and the gasses that are produced are collected and burned," Pope said.
Heritage Environmental Services is a hazardous waste disposal landfill, which means it requires additional levels of leak prevention and monitoring. However, Pope mentioned that between 2016 and 2020, over 1,200 scientists resigned from the EPA, meaning that required inspections sometimes don't happen because of a lack of personnel.
Pope agrees with many people who say that sites like Heritage Environmental Services are the better way to manage hazardous waste compared to dumping them into lakes or burying them off-site.
"However, some compounds, like dioxins, are called 'forever chemicals' because of their persistence overtime. Heritage has been operating for over 50 years, and I have no doubt that they are careful and want to follow the law. However, the dioxins that are onsite will be there in 500 years or longer; that should give us all pause," Pope said.
Testing at the site has proven that the waste has no harmful levels of dioxins, however. The single most important thing Pope stresses is that the chemicals never just go away. Pope hopes for society to think more carefully about the creation of hazardous chemicals and to seek alternatives. She stresses that if we choose to live with these chemicals, we must learn how to manage them.
"Also, there is no direct threat to Greencastle or DePauw from waste in this particular landfill because we are in a different watershed, but that doesn't mean that we shouldn't care," Pope said.
Pope believes that action is totally called for. She stresses that students and community members learn more about environmental laws and use the tools available on the EPA website to learn about potential hazards in the area they care about.
Ali Alavi, Executive Vice President of Regulatory Affairs and General Counsel at Heritage Environmental Services, stresses the safety of the facility. In response to concerned residents, Alavi assuages any fear.
"I would say to them that the HES facility in Putnam County has been operating since 1981 without issue, employs a state-of-the-art design to protect human health and the environment, and is strictly regulated by the Indiana Department of Environmental Management and US Environmental Protection Agency. The agencies inspect the facility on a regular basis. I would add that the facility staff live in the area, including the facility manager who lives within a mile of the facility and draws drinking water from a well on his property," Alavi said.
Pope believes that it is appropriate to write to political representatives at the state and national levels to share thoughts and values. Pope also shares that U.S Administrative and Waste Management Services is a 760-billion dollar industry.
"I mention this because I think that it is important for people to know that there is a profit motive for virtually all landfills and other waste-handling services, which means that it can be tempting to cut costs, including those associated with environmental safety. I have absolutely no reason to think that Heritage Environmental has done this, but the lack of regulatory oversight means that I also can't say for sure that they haven't, which is frustrating," Pope said.