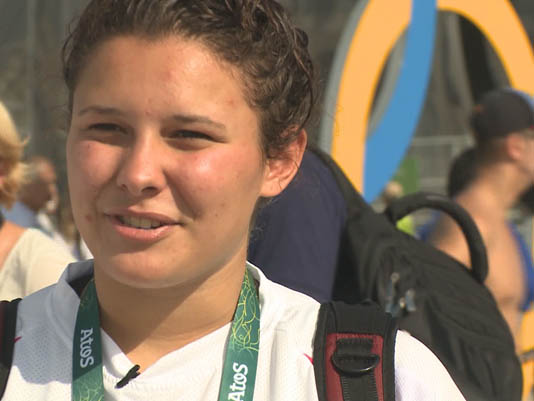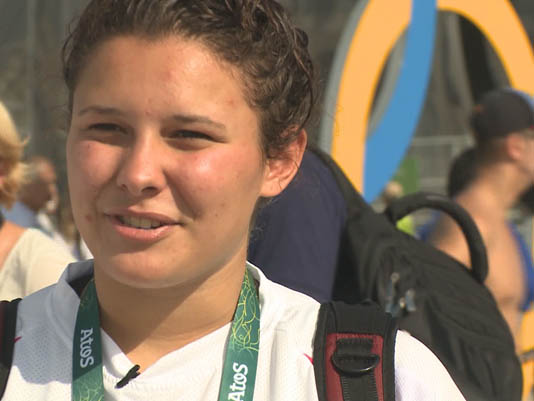 If you were watching the first heat of the women's 100-meter freestyle on the first day of the 2016 Summer Olympics in Rio you may have seen Nuna Bamatraf, now a first-year at DePauw University, swimming as the sole women's swimmer representing Yemen.
"Being up on the block and diving in, I guess it didn't really set in what I was doing until I could see the camera on the bottom of the pool following the track of our race," Bamatraf said.
She could see the crowd and cameras surrounding her as she became an official olympic athlete, like she had watched on TV her whole life. "It didn't stress me out, it was actually kind of cool, kind of surreal that I was the one being tracked by the camera and I wasn't watching on TV," Bamatraf said.
Bamatraf is a first-year student from Atlanta, Georgia who swam in her first competitive meet when she was 5 years old, and she hasn't stopped since. Back then, meets consisted of filling up on candy and simply swimming. "Five-year-olds don't get in the zone, five-year-olds just jump up and jump in," Bamatraf said.
At 16 she had the opportunity to swim in the 2016 Olympics for Yemen after becoming a dual-citizen because her father is from Yemen. For Bamatraf, the water always felt natural, and her times reflected that. "You could look at the results and see that I was capable of swimming fast," Bamatraf said. "A lot of things they just felt right, I had a good feel for the water."
Bamatraf swam with Stingrays Swimming, a club based out Marietta, Georgia, since she was five. This was her team when she first started swimming, when she went to the Olympics and when she committed to the sport.
While the water felt natural, Bamatraf was not always sure if she wanted to commit to a life of competing. During her first-year of high school she had a back injury and was out of the water four five months allowing her to evaluation her relationship with the water. "At the time I got back in the water," Bamatraf said. "I was like 'I think this is what I want to do,' but the next year I was still kind of not convinced."
However, after returning home from the Olympics, Bamatraf remembered her time in Rio working with Arthur Albiero, the head coach at University of Louisville, and the lessons he taught her which changed how she thinks.
"[He] gave me almost a new perspective into swimming and what to think about when I was practicing and swimming to make it deliberate and to make it worth my wild," Bamatraf said. "That kind of made something click in my head and I started enjoying and trying more in practices and it really made my junior and senior year enjoyable."
The spring after swimming at the Olympics Bamatraf visited DePauw for the first time, meeting with Coach Shea Davisson and Dr. Brian Wright, assistant professor of kinesiology. Throughout the recruiting process Coach Davisson looks at times, grades and personality to check compatibility with DePauw. Bamatraf fit everybox.
"You know I think DePauw students are usually very outgoing, she was definitely that way," Davisson said. "So, we just continued to text or call on the phone for next year until she was like 'Yup, I'm coming to Depauw'."
After swimming with the Stingrays in Georgia for 13 years she will officially start practice with a new team Sept. 24. "We definitely haven't spent enough time with each other for me to compare anything but that team [the Stingrays] was definitely like my family my coaches were like second parents to me," Bamatraf said.
The dynamics of the her new team will impact Bamatraf's competition history, however according to Coach Davisson, the effects will be positive. "She mentioned it to me like once, then after that it just wasn't like the forefront of why I was recruiting her," Coach Davisson said. "If anything they are [the team is] pumped up. I think once they get to know her they might talk about it more than she does, she is very humble."
Roommate and fellow swimmer, Katherine Kempf, is a testament to that.
"Rooming with an Olympian, that's like awesome but she's like completely normal," Kempf said. "She is so humble about it too, so I'll like hype her up every now and then like 'thats my roommate she's an Olympian'."
Although she did not make it out of her first heat Bamatraf swam a personal best in Rio. Next summer in Russia Bamatraf will have the opportunity to qualify for the 2020 Olympics, giving her potential to be the first DePauw swimmer, and one of a few students, to compete at the Olympics.