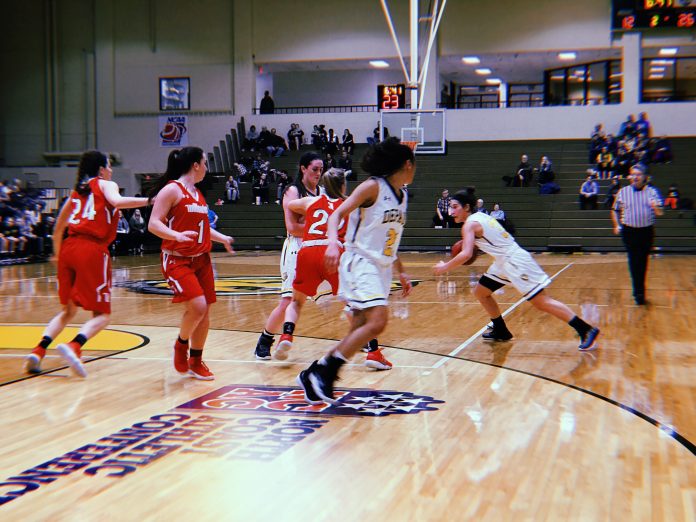 The DePauw women basketball team's 21-game win streak was snapped by visiting Wittenberg University in the semifinals of the North Coast Atlantic Conference (NCAC) semifinal game on Feb. 23.
DePauw University got off to a slow start and could not get their offense started. They were quickly down 11-21 in the first quarter. Wittenberg dominated the first quarter with a 15-2 run in the final three minutes. The women started to regain some of their confidence as they fought their way back into the game by outscoring the Tigers of Wittenberg 16-11 in the second quarter. They went into the half trailing Wittenberg 27-33.
Wittenberg continued their dominating presence as they were first on the board coming out of the half. Wittenberg led by ten at 44-34, but with two three-pointers and two free throws, they began to run off with the game as the gap opened the score to 52-34.
However, it was Sophomore Sydney Kopp that took over as she hit two three-pointers to conclude a 10-0 run. The Tigers made a run for a late game comeback shortening Wittenberg's lead to 54-46 with only three minutes left in the fourth. For the first time all game, the DePauw Tigers were within three (65-68) of Wittenberg due to Kopp hitting two more three-pointers.
DePauw trailed 68-71 as senior Emily Budde tossed up the final chance. The crowd watched in awe as the ball hit off rim and fell to the ground. Wittenberg secured the win when they knocked down one last free throw, ending the game 72-68.
Although the home Tigers fell to Wittenberg, junior Maya Howard continued her dominant offensive ability by scoring 24 points. Howard was the bright light, leading the Tigers in scoring with Kopp directly behind her with 21 points. The offense got off to a slow start, but really began to put on the pressure in the fourth quarter by scoring 34 points.
Part of DePauw's struggle in this game was their lack of command in the paint with rebounds. DePauw consistently dominates their opponents in this area but Wittenberg outrebounded them 37-35. Wittenberg is only the second team this year to out-rebound DePauw. The Tigers' shooting percentage lacked the electricity shown in previous games. This lack of momentum continued through the game as they maintained a field goal percentage of 31.3% by going 20-64 in shots.
DePauw women's basketball ends their season with an overall record of 25-2. While this loss does knock them out of the NCAC tournament, DePauw is still in the running for a bid to the NCAA Division III Championship.