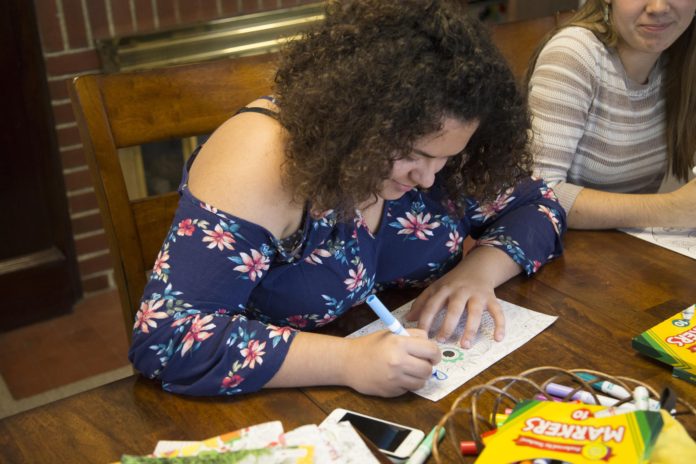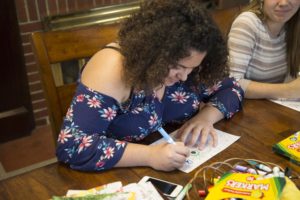 There is a new program on campus aimed to help students bring peace and clarity to their lives. Peace Works is a new program created in connection to the Hartman House to provide a low-tech, high-touch atmosphere for the community
The program was spearheaded by Kate Smanik, assistant dean of students for spirituality, service, and social justice as well as Coordinator of the Compton Center for Peace and Justice, Valerie Rudolph.
"Peace Works was [Valerie's] idea for that kind of program," Smanik said, "something that would help participants think about how to bring peace into their life and into their communities in tangible ways."
The bi-monthly meetings will be led by a different staff member from the Hartman House, so one can expect each installment to have a different feel. However, Smanik ensured that every Peace Works meeting will include cozy space, good conversation and delicious food.
"I think it's a healthy alternative for students to de-stress," said sophomore Natalie Bennett.
Senior Sophie Mazurek thinks that the Peace Works program and its low technological approach will be very beneficial to students. "I think that a lot of times, people focus too much on the future...especially at DePauw," Mazurek said. "So for people to take the time to focus on things besides work, I'm sure it will help a lot to get their mind off of stressors."
The topic of discussion at the first Peace Works event, chosen by Smanik herself, was the role of play in creating peace. Attendees explored the idea of play "as a way to generate new ideas, a time to connect in joyful ways with others, as something that allows us to tap into our own, sometimes hidden, identities," Smanik said. This discussion was, of course, accompanied by cupcakes and coloring.
Although Peace Works is still getting off the ground, Rudolph thinks it has the potential to grow into an important space for reflection and community building. Since the Hartman House is home to a number of diverse programs, Smanik said Peace Works can be a great middle ground for inclusive conversation.
"My hope is that this event allows new students to connect with our work," Smanik said. "If it is successful, I can imagine that in the coming years we will invite faculty and staff outside of our area to share their 'peace works'."