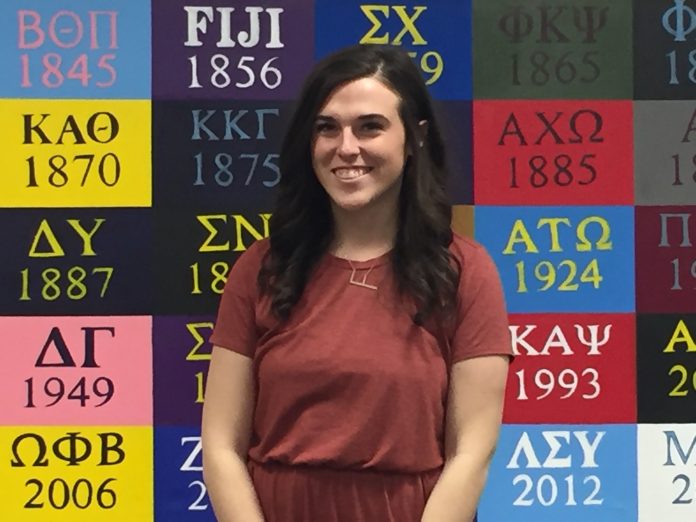 This semester, DePauw gained a new Director of Fraternity and Sorority Life, Frae Binder. Binder joined Daylon Weedle as the second official member of the office in January and moved to Greencastle, IN in February. Other DePauw staff like Kevin Hamilton, assistant dean of students and director of housing, also work with the department to support Greek life. 
Before working at DePauw, Binder was an assistant director of Fraternity and Sorority Life at Texas Tech University. She worked with the Interfraternity Council and the Panhellenic Association on her campus. She also joined a sorority, Phi Mu, while in college. 
"As an undergrad, I was involved in my sorority pretty heavily, which got me excited to do this," Binder said. She explained her experiences in her chapter were part of what inspired her to pursue a master's degree in higher education administration. 
She described her sorority experience as "empowering," and said it gave her "a lot of experience in leadership," and other areas like networking and recruitment that are applicable to jobs after college, which is one aspect of fraternities and sororities she likes. "It provides a really beautiful experience for education outside of the classroom," Binder said. 
According to Binder, fraternities and sororities make campuses "feel a little bit more small and a little bit more intimate to really make things feel like home," because of the close relationships they foster between students both within their own chapters and among the different chapters. 
Fraternities and sororities are national organizations, Binder explained, so membership also provides students with connections and shared experiences beyond the university. "It really connects you to a larger network of people outside of just your own campus," Binder said. 
So far, she's "loved getting to know the different students and the different staff and faculty." She referenced experiencing DePauw Dialogue for the first time and said, "I am just like, blown away by how supportive everyone has been so far, how the staff and faculty are really committed to the student experience." 
Binder said learning about student experiences is one of her favorite parts of her job. She has been meeting with some students and appreciates the chapters that have invited her to join their events. "I really, really love and so value when they're willing to be vulnerable with me," she said. 
According to Binder, DePauw has a "historic" Greek community. She admires DePauw's effort to maintain that community with an eye toward the legacy they will leave for future DePauw students and fraternity and sorority members. She believes the school maintains a "balance" between its historic traditions and being progressive and open to change. "I'm just continually impressed with how the students care for one another," Binder said. "So it's not just that they care about their own situation or the experience, they genuinely care about the experience of their peers. And I hear so much about the experience for future students."