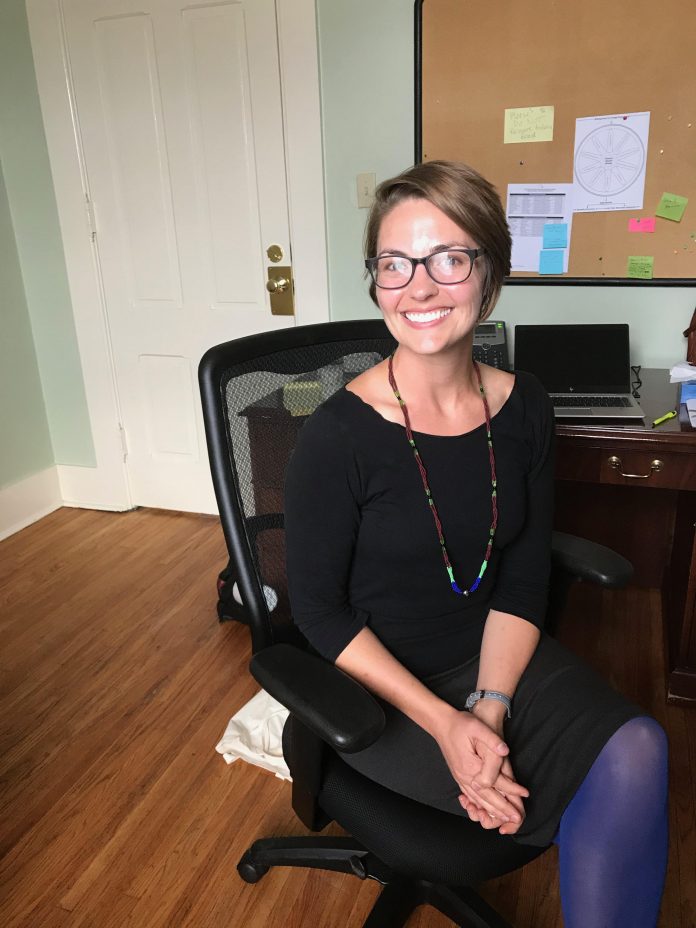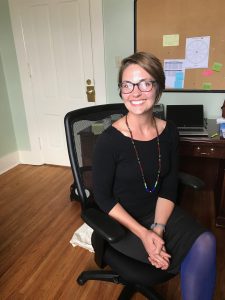 Katie Childs breaks new ground at DePauw University as the first Coordinator of Sexual Assault and Interpersonal Violence and Education.
"For people who have done prevention education work in the past, it's been a small part of their job but this is 100 percent of my job, so there's a huge opportunity to develop more programming that's consistent across the four years of experience at DePauw," she said.
Child's earned her bachelor's degree from Saint Louis University, then furthered her education by attending Brown School at Washington University in St. Louis. During her time at Brown School, Childs completed a dual masters program in Public Health and Social Work with a focus in Sexual Health.
When reflecting on her time at the Brown School, Childs said the masters program offered a unique focus in the sexual health field. According to Childs, sexual health is often thought about from a strictly medical perspective. Because of her background in social work, Childs wanted to focus on sexual health from a "people perspective" so she'd be able to work with people wherever they were on their sexual health journey.
Childs also shared that Brown School provided her with a lot of practical skills that were useful in her field as a sex educator. Childs got to put her skills to practice during her involvement in the Peer Sexuality Educator Training Program. According to Childs, the program began as a partnership with fraternities at Washington University, but when interest grew the program opened up to all undergraduate students. During the eight week training session, the students discussed and voted on what topics they wanted to learn related to sexuality.
Although Child's time at Washington University provided many opportunities for her to practice the skills of her chosen field, she knew she wanted to focus on sexual health before graduate school as the point when she knew.
Childs said that before entering grad school she worked for an AIDS service non-profit organization. Her role was in the development field where she did both fundraising and event planning initiatives. Although she loved the work, she said she realized that her skills and interests were not being met in the way she desired.
However, Childs came to really admire her co-workers work in the prevention unit and gained a sense of career inspiration from the people in that department.
"Many of the people who would go to the agency for prevention services might be people who used injection drugs, or they might be people coming for safer sex supplies and what I saw was that many times the people who were coming in for prevention services had a lot going on," said Childs.
Childs acknowledged that the conversation surrounding sexual health can be difficult, but believes it's important to have this difficult conversation. "There's a lot of barriers and it's hard to talk about this stuff, but what I saw my coworkers that worked in prevention doing was saying 'I know all this is hard, but here's a packet of condoms; you can come here for free lube; here's clean injection supplies' and that was so useful to those clients."
She said her co-workers in the prevention unit inspired her to make a shift in her career to do something that "cuts through all this noise, stigma, and secrecy."
Child's believes the originality of her position provides a lot of possibilities for change at DePauw and she has already developed goals based on the culture she has observed so far.
Childs said that the sense she has gotten from conversations is that the programming around sexual assault and general sexual health education at DePauw happen in isolated groups. "That's a great place to start," Childs said, "but it's my hope that my position can help facilitate those conversations blossoming into more university wide conversations."