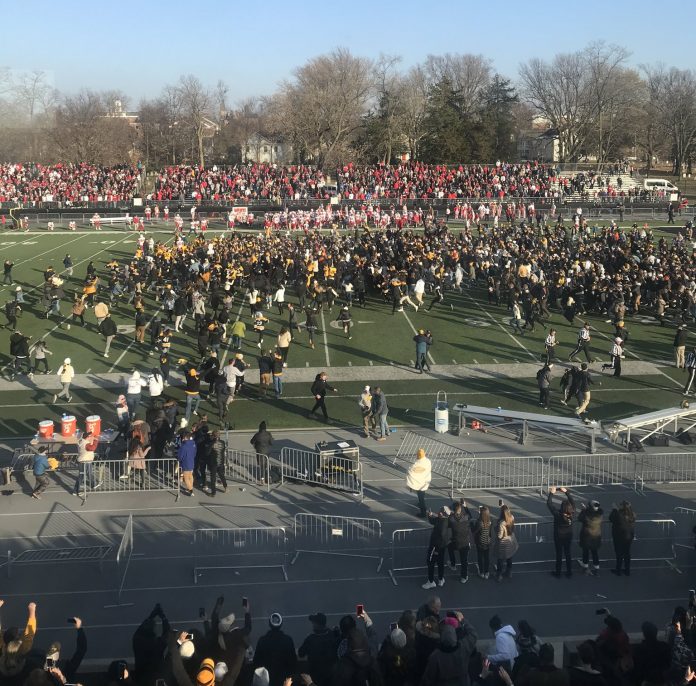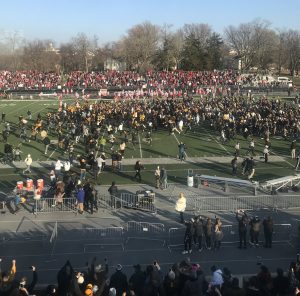 The DePauw Tigers football team defeated the Wabash Little Giants 17-13 in the 126th Monon Bell Classic, an annual game dating back to 1890. In a game where DePauw was statistically outmatched, the Tigers found a way to hang around and then eventually, deliver the killing blow.
Sophomore Noah Jones and junior Jarrod Stiver led the rushing game, amounting 85 yards and one touchdown together. Jones was the more utilized running back, but Stiver powered his way into the endzone early in the game. Will Harris, who had 78 receiving yards, also brought 16 rushing yards to the DePauw offense.
The biggest story of the day was the Tiger defense. Junior Nathan Seifert led the way with 11 tackles, followed shortly by junior Joe Zanca, who totaled 10 tackles.
The entire defense was able to contain Wabash's one-two punch of Liam Thompson and Issac Avant, who were limited to less than 250 yards of total offense.
DePauw was the better third down team, limiting the Little Giants to five successful conversions out of 14 attempts while converting nine out of 15 times. Despite the 50 total penalty yards, DePauw was able to contain a lethal offense and capitalize on opportunities. This DePauw team had to earn the win, and they absolutely did.
Although I had predicted a Wabash victory, (objectively, Wabash was the better team going into the matchup), two things came to fruition: Chase Andries and home field advantage.
DePauw's success was dependent on how junior Chase Andries played, and he did not disappoint. On DePauw's last offensive drive, down 13-10, Andries fired a perfect throw to junior Gavin Ritter, who caught the ball mid-stride and sprinted along the sideline and into the endzone. Andries finished the day with 210 passing yards and one touchdown, but that touchdown was the most important of the year.
The DePauw home crowd showed up in a large way, specifically in one instance. After Andries threw an interception in the fourth quarter, the defense willed the crowd off of their feet where they remained until the game was over. Without a doubt, the crowd served as a major advantage for DePauw.
Relying on stats for predictions can be messy, as I have learned. However, I am glad to be wrong in this instance.
Summing up the game, Larry Abed, D3TV adviser said, "It doesn't matter what the stats say. We've spoiled their seasons, they've spoiled our seasons. It's like Christmas on DePauw when these two teams play."
For play by play coverage of the game, check out The DePauw on Twitter.