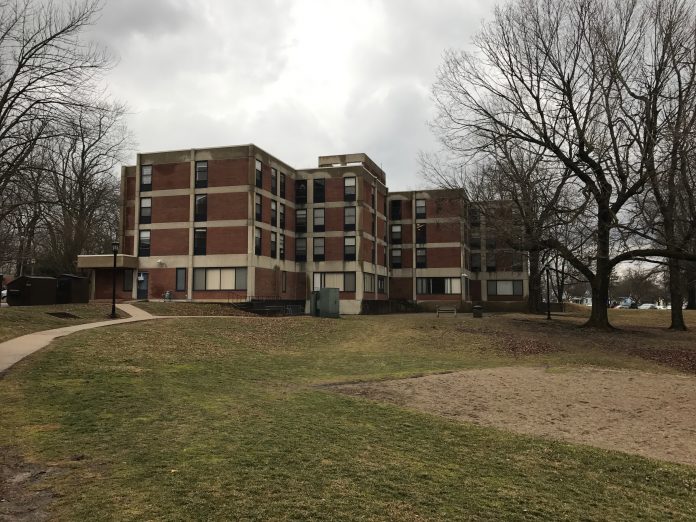 The mold test conducted on Feb. 23 in a Hogate Hall dorm room found no threats to residents' safety. Micro-Air, DePauw University's testing contractor, performed the test "in response to air quality concerns," according to the official report.
The picture from the Feb. 23 article "First official mold report" announcing the test and the student mentioned who filed a report were unrelated to the test results.
Micro-Air completed various examinations of the room in question (the room number and name of the student who filed the complaint were not made available to protect privacy). A primary visual inspection showed "no evidence of water damage or visible mold growth on building finishes."
An additional procedure to test airborne mold spore concentration found the level of mold spores to be much lower than outdoor mold growth. "The concentration measured was within the range considered normal for indoor environments and was not at a level of concern on the day the sampling was conducted," stated the report.
In an email, Ken Owen, special advisor to the president, called Hogate "mold-free" and stated the only mold detected was found on food in student's room. Owen has been in frequent contact with Warren Whitesell, director of facilities management.
According to Janna Tuck, MD, a spokesperson for the American College of Allergy, Asthma and Immunology, mold can be found in nearly every indoor habitat and individuals are exposed to mold on a daily basis. "Mold is pervasive in our environment. Just because you can't see it, doesn't mean it isn't there." She explained most people can tolerate these standard levels of mold.
Oftentimes, mold can smell when it releases volatile organic compounds. However, Tuck said "just because something smells musty, doesn't mean there's a lot of mold. It just means [the mold] is producing something we can smell."
Tuck also mentioned individuals often develop allergies in their 20's when they go to college. These allergies are not a result of inhospitable environments, but a result of "timing and change in environment."
If you have suspicions of mold in a DePauw residence or building, you can submit a request on e-services under "Facilities Management."