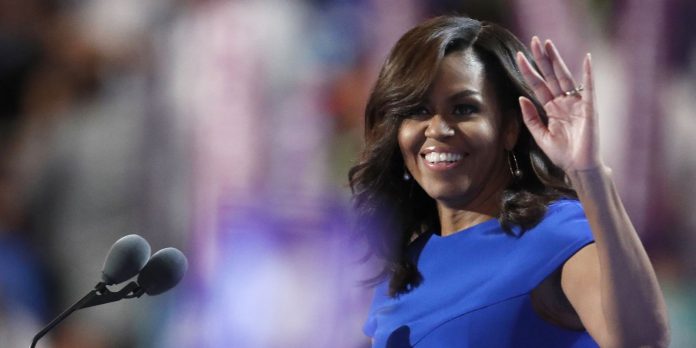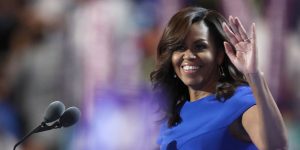 By the end of former First Lady Michelle Obama's conversation with moderator Alecia DeCoudreaux, almost every seat in Bankers Life Fieldhouse was empty; not because those tickets were not sold, but because she left them in a standing ovation.
"We can control our own individual actions every single day. Being a good person. Assuming the best in your neighbors and not the worst. Nobody can take that from you," Obama said as she ended the conversation over loud roars from the Indianapolis crowd.
The sold-out stadium listened for over an hour as DeCoudreaux asked Obama questions on her time in the White House, women in power, fashion and mental health, among others.
The program began with two videos produced by the Women's Fund of Central Indiana and introductions from former Indiana Fever basketball player Tamika Catchings, Jennifer Pope Baker '89, executive director of the Women's Fund of Central Indiana and Cindy Simon Skjodt, the primary donor for the event. Pope told the crowd that their attendance helped the Women's Fund of Central Indiana raise $1 million for young women in central Indiana.
"You have helped someone escape addiction, poverty, violence. You have helped change someone's life," Pope told the people in attendance.
Obama and DeCoudreaux then took their places in their chairs on stage in the middle of the arena. Obama got the crowd involved immediately when she took the microphone and said, "where are the young people at?" Patches of young women and men stood on their feet to cheer, and Obama followed it up by saying, "I love you all."
DeCoudreaux opened the dialogue by expressing her gratitude for the service Obama has done in her life. "We would like to thank you for the way you've served America," she said.
Obama started by speaking on her childhood and living on the south side of Chicago. She said that she went through difficult times as a child fighting through poverty and being an African American girl in the bad part of a city, but she said her family was the biggest influence to get her through those times.
"When I think of my support network, I think of my family," Obama said. "Sometimes the most important role models are right in front of you."
DeCoudreaux went on to ask the former First Lady how she was able to overcome the oppression she faced being an African American woman. Obama said that she embraced her circumstances and did not listen to the people that wanted to hold her back.
"There are people that decide not to like you because your brown," Obama said. "You got to grow up. You have to practice to ignore it."
One of the ways she practiced this while in the White House was by setting up programs that brought underprivileged kids to the White House for meals.
"Let's open [the White House] up," Obama said. "It means so much more than that rich person who's been to the White House 10 times."
DeCoudreaux asked her what it was like living in the White House under a constant spotlight. Obama said it was easy; she just needed to be herself.
"The me you see here is the me you'd see backstage," she said to the crowd.
Obama followed this up by speaking in depth about the importance of having women in public service positions. She said that if it is only men in the room making decisions, then half the world is not getting their voices heard.
"We need diversity. We need strong female voices. We need to get some other people in the room," she said.
DeCoudreaux shifted the conversation toward the topic of mental health. Obama discussed how times have changed and science has proven the reality of mental health.
"It's like being mad at someone because they have a bad heart," Obama said.
When asked if she had any closing advice to the women in the crowd, Obama said that women are in a position to make a change in the world, but they need to remain vocal and progressive.
"We're everywhere right now," Obama said, "but if we're everywhere being quiet, then we're not using the leverage that we have."