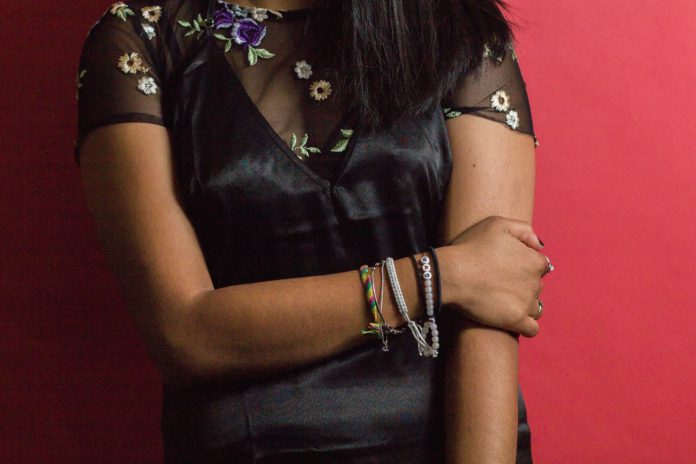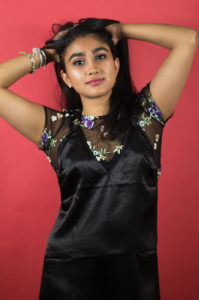 Byron: So I see the fit. Tell me about it. Tell me about the dress. The shoes.
Meru: I got the shoes for my graduation in Mexico, and they're the only pair of heels I have because I don't like heels that much. I got the fit at Urban Outfitters.
B: Do you shop a lot at Urban?
M: Urban is one of my favorite shops, but it's mad expensive. I like going there and checking out outfits sometimes, maybe getting stuff from the sales section. But I don't shop there that much.
B: What are your thoughts on thrifting?
M: Thrifting was not a thing in Mexico, so I didn't get to do it that much. I have done it once or twice here which has been fun, but it's just hard to thrift. I like getting clothes that I know I can wear with a lot of outfits. I feel like you have to have a lot of experience because it's hard to find stuff.
B: What's the coolest thing you've found at a thrift store?
M: I bought these red pants that I haven't used yet and I really wanna use. They're very boujie and I don't know... they're very different.
B: What are your go-to colors to wear for your outfit?
M: Black, definitely. Brown. And sometimes a different color like red or yellow. I really like yellow right now. Or even pink. Which is weird, but sometimes.
B: Who are people that inspire your fashion, if any? How do you get inspired for your outfits?
M: I get inspired by everyday people and what they wear. I like copying a lot. I really enjoy people watching. Especially because I work at the library and I can see a lot of people coming in and out, and I just love looking at their outfits and getting inspiration. I don't get inspired by famous people that much.