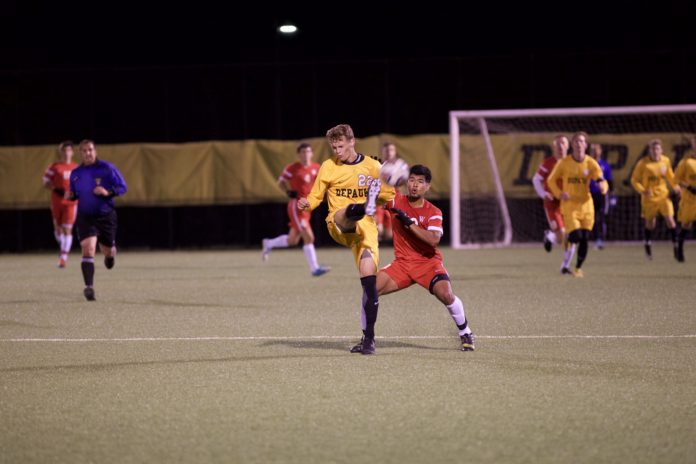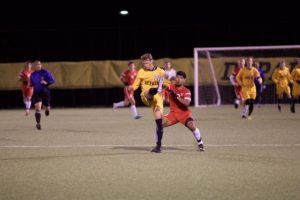 Despite there still being two and a half weeks before the Monon Bell game, rivalry tensions ran rampant as DePauw men's soccer hosted Wabash Wednesday night. A must-win game for DePauw, the matchup was hard-fought, with Wabash having the upper-hand in the first half. DePauw came out hard in the second half, but ultimately fell to the Little Giants 2-1. With the loss, the Tigers are officially eliminated from the postseason.
The game was surrounded by cheering fans for both teams.
"The atmosphere was great and I think our guys enjoyed it," said Head Coach Brad Hauter.
The atmosphere provided for an intense match first half largely controlled by Wabash, who went into halftime a goal up on DePauw thanks to a header from defender Spase Dorsuleski.
As the referee blew for the second half to begin the Tigers looked reinvigorated. "Going into the locker room we said to ourselves that this next 45 minute was the difference between us making the tournament or being done with the season," said sophomore forward Jay Klein. "That is why we came out fighting harder the second half. It seemed like we forgot what we were playing for in the first half, so we reminded ourselves in the second half."
Hauter emphasized the tactical changes made at half.
"We high pressed in the second half," said Hauter. "Partly to keep the game higher up the field. Partly to chase the game and partly to jump start our energy level."
The tactical change and halftime discussion led them to bring the score level through senior forward Keaton Voegerl with 15 minutes left in the game, which Klein said, "Gave us the energy to fight back."
However, the Little Giants were not done. In the 80th minute, Little Giants midfielder Cory Sims scored what would be the final goal of the game. It only got worse for DePauw as they were handed a red card in the 85th minute.
"(The red card) made an uphill battle much more difficult", said Hauter. "Attention to detail wasn't there for 90 minutes." Unfortunately, that is how it ended at Reavis Stadium, 2-1.
The loss was a big blow for the Tigers.
"It is not the end of the season, we still have one game left, but ultimately that knocked us out of the tournament," said Klein. "We'll look to come back stronger next year, coming off a decent season this year, but we could have done better."
The Tigers host Oberlin on Saturday at 2:30 p.m. to end the regular season.