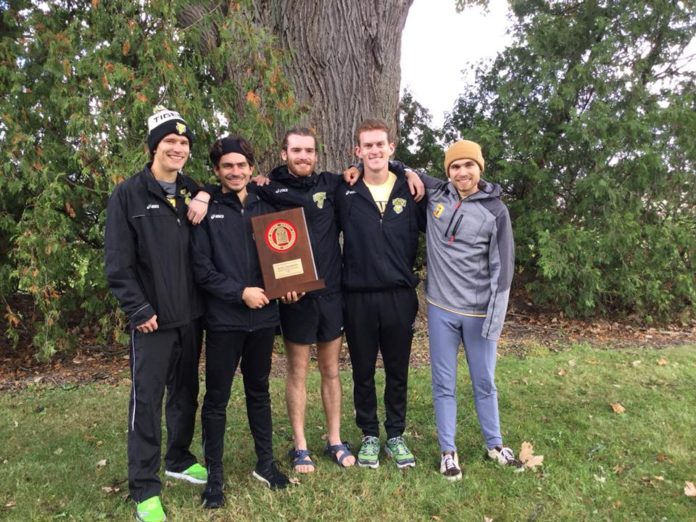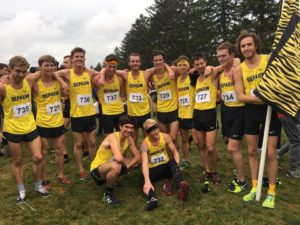 When the men's cross country season started back in August, Head Coach Kori Stoffregen and the rest of the team already had their eyes on Oberlin College's Inter-Regional Rumble in mid-October.
"If we could have everything together by that weekend, I think we could start showing people that we were a good team," Stoffregen said.
The Tigers didn't disappoint. After dealing with various injuries and setbacks, the team placed first out of 31 teams in the Rumble. Two weeks later, they returned to Oberlin's course and won the Conference championship.
The title was the team's first since joining the NCAC in 2011. The men's team had come close to the championship last season with its second-place finish behind Allegheny College.
Despite the coaches' poll predicting the Tigers to win the race, the team knew there was work to be done.
"We went into that meet very, very hungry," said Stoffregen, who also was named NCAC Coach of the Year. "But like I said, a big part of it was, we had to be very patient throughout the year. The team had faith by the time that we got to these big meets."
With the Tigers already carrying an extra edge heading into the meeting, their familiarity with Oberlin's course all but sealed their victory.
"That's why that (Rumble) meet was so important. That's a huge bonus to it," said Stoffregen. "Not only did we do well at that meet and beat all those teams, but we ran well on the course we were coming back to two weeks later."
Saturday's race was led by senior Polo Burguete (24:43.4) who finished runner-up to Dominic Patacsil. Juniors Paul Christian (25:00.8) and Zach Batt (25.33.2) also earned first team all-conference honors with fifth and seventh place finishes respectively.
"As a senior, it's a great accomplishment. The team has come a long way," said Burguete. "The team's never been at this level, and it's great to see the young guys be inspired and hopefully continue to achieve great things."
Burguete knows the team still has a lot left in the tank to leave a lasting legacy on the year.
"Let's hope to an even better end to the season," said Burguete.
With a time trial this weekend, the Tigers will return to action on Nov. 11 when they'll keep in the NCAA Division III Regional in Delaware, Ohio.