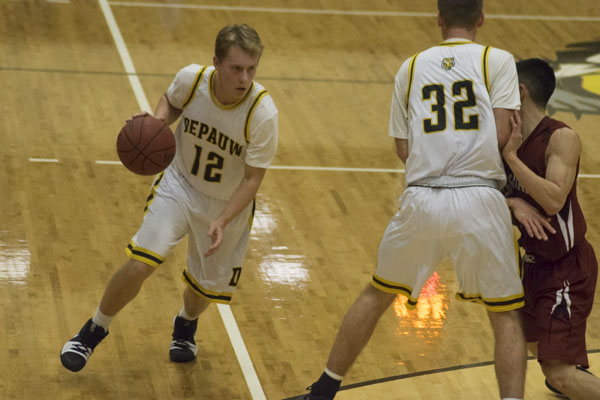 The DePauw Tigers Men's basketball team notched their second win of the year, edging out the Rose-Hulman Institute of Technology Fightin' Engineers 68-66.
DePauw held a 12-point lead heading into halftime, only to be outscored 35-25 in the second half by the Fightin' Engineers. Fortunately, the team was able to put up 43 points first-half points, providing a large enough cushion to secure the victory. A strong defensive effort allowed the team to minimize the damage.
"I think our intensity was the difference in the game. We were able to come up with loose balls on the offensive end and convert those extra opportunities for points," junior forward Pete Feely said.
DePauw's hot start in the first half was due in large part to their 59% shooting as a team from the field. Ultimately, the team cooled off in the second only hitting on 27.6% of their shots. However, the Tigers won the rebound battle 34-30, proving to be the difference maker down the stretch.
"The keys to the win last night were our rebounding and ability to overcome a bad second half shooting performance," senior guard Mason Hankins said. "Last night was what we were looking for on the glass and continuing to do that will help us win games."
22 of Depauw's 34 total rebounds came in the second half.
"We knew Rose-Hulman wanted to crash the glass hard, so we made it a team effort to step up and grab rebounds. Winning the rebound battle secured the game for us," sophomore forward Matt Mahlke said.
Senior guard David Vogel led all scorers on the floor with 25 points, while also setting his career-high mark for points in a game. Vogel capitalized on the three ball by going 5-6 from behind the arc. Through the first four games of the season, Vogel is ranked third in the NCAC conference in points per game (19.3).
Senior forward Chris Burrough was the only other Tiger in double figures with 11 points off of the bench.
"The bench was huge for us offensively, with guys like Chris Burrough coming in and knocking down big shots played a major role in our victory," Hankins said.
DePauw finds themselves (2-2) as Rose Hulman falls to (0-5) on the year.
The Tigers will open conference play on Saturday when they take on Ohio Wesleyan in Delaware, Ohio. Tip-off is set for 3:00 p.m.