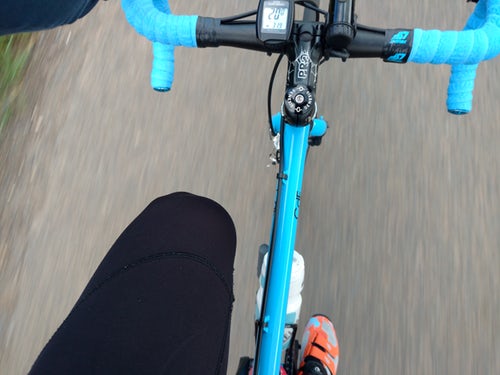 Senior Drew Bailey watched the 2016 Little 5 race from the stands and made the decision to race in the event the following year. What he didn't know was the amount of effort and training it would take to compete.
The next 365 days for Bailey consisted of many different types of training, including weight lifting, eating healthy and learning the course. But before he could begin that, he had to learn how to race.
"I obviously knew how to ride a bike, but racing is much more than riding a bike," Bailey said. "You have to learn how to shift gears and strap in and out. That was the first step for me."
Bailey spent the summer of 2016 biking as much as possible. He lived on DePauw's campus that summer, so he was able to bike around campus every day. He said he would bike around 20 miles every day.
When school started back up in the fall, Bailey found it more difficult to find time to train because of his school schedule and the weather, so he spent more time biking on the stationary bikes at the Lilly Center and lifting weights rather than biking long distances outside.
Senior Amanda Nunley, who will be competing in her first Little 5 race this year, decided on racing later than Bailey, so has had less time to train. It was not until a couple of weeks before spring break when she decided to make the commitment.
"It was my senior year, so I thought, 'oh why not?'" Nunley said.
Bailey said that he and his teammates would try to ride together as much as possible, but much of his training occurred by himself. However, Nunley and her teammates train together every day, and it has helped push her through the difficult training.
"It would be kind of boring riding 40 laps around the GCPA by yourself, so riding together as a team makes it more motivating," Nunley said.
As last year's race day drew closer, Bailey began training for specific aspects of the race. One of the aspects he spent a lot of time on was his start for the street sprints.
"The only thing that matters for the street sprints is your start," Bailey said, "and since I had a really good shot at winning the street sprints, I practiced my start a lot toward the end." Bailey made it to the semi-finals of the street sprints before the event was cancelled because of rain.
Nunley said her and her teammates have started a tapering this final week to prepare their legs for the race. They have been riding less distance and more lightly.
"Our workouts have definitely been less intense this week so we aren't tired heading into the races," Nunley said.
One of the struggles Bailey had to endure during his training was losing weight. Since he was entering the race as one of the biggest bikers, he wanted to lose weight to improve his chances. In the year he spent training, Bailey lost nearly 25 pounds.
"I think being bigger than most of my competition was the hardest challenge for me," Bailey said. "Specifically when you make the turn after Julian heading toward the Hub, the street slightly inclines, so it was difficult to carry my weight up the incline."
Bailey said that training for the event was very difficult at times, but it was worth it in the end.
"It was an extremely rewarding experience putting all my hard work to the test," Bailey said. "I think people don't understand how difficult the training and the actually race are for the bikers."