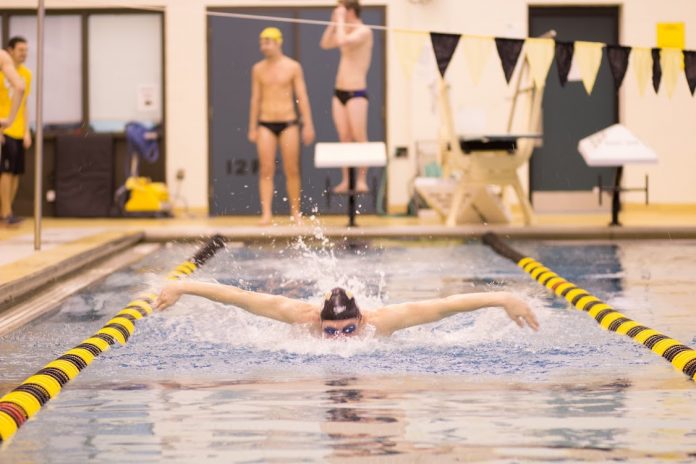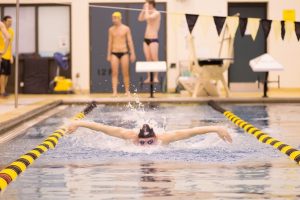 Sophomore distance swimmer Charlie Stewart-Bates hopes his taper period will help him clinch a spot at nationals. With no more 6 a.m. practices and a cutback on weight lifting, Stewart-Bates has been able to rest his muscles for his three upcoming races at the North Coast Athletic Conference (NCAC) swim championships.
Through a process called tapering, swimmers decrease the amount of swimming they do during practice. Men's Head Coach Adam Cohen says that at its core, taper is rest. Swimmers are able to swim fast because their muscles are not beaten down and tired.
The idea of tapering allows the swimmers' bodies to recover and heal but still be at peak athletic performance at the time of the big meet. Cohen and women's Head Coach Shea Davisson describe taper as being a magical period of recovery.
"What taper becomes is this rest period; this magical, beautiful, best time of year of about two to three weeks depending on the athlete where we rest the body, let the body recover to super-compensate for all the break down so it's a lot stronger and be able to go faster," Cohen said.
Swimmers spend the entire season training by being in the pool and also lifting weights. Cohen said the team can sometimes be in the pool for three to four hours a day during peak practice season.
The taper process is individualistic and differs for every swimmer. Junior mid-distance swimmer Kayla Riemensperger said each teammate could have a different taper. "I could be having a good taper while someone else is having a really bad one and it just depends on the day," said Riemensperger. "It's hard to explain but everybody's body recovers differently."
In general, distance swimmers will taper for shorter periods than sprint swimmers. Davisson said distance swimmers need to maintain the endurance they have built up throughout the season.
"Those ladies need to hold onto yardage a little bit longer and more because they need to be able to swim the mile and do it on the third day of conference," said Davisson. "They have to have the endurance to be able to swim well for a mile after three days of competition."
Riemensperger said her taper practices have been about keeping her pace times for the NCAC championships. "We do a bunch of pace work, so instead of doing long yards where you get up to 5000 yards in practice, we slowly drop it to 3000 or 2000 and it's more based on perfection rather than an abundance of work," said Riemensperger. "Everything that we're doing is more geared towards racing."
On the other hand, sprint swimmers need a longer rest period because they tend to be more muscular. "They hold onto their muscle pretty well and usually those swimmers need more of a taper," Davisson said.
Sprint races tend to be shorter at 50 and 100 yards which means the swimmers are in the pool for shorter times. This brings its own pressures for the swimmers to do well. "Some guys cases that might be 20 seconds. You've trained all year for a 20 second thing and that brings its own pressures, but it's also a lot of fun," Cohen said.
Swimmers also change their daily routines outside of practice to reap the benefits of the extended rest period. From diet changes to increasing hours of sleep, swimmers focus on maximizing their rest period. "You know, take the elevator if you want to rather than taking the stairs," Davisson said.
Senior sprint swimmer Sam Wagner said his focus as the meet approaches is to cut out junk food from his diet, a goal Riemensperger and Stewart-Bates also look to meet.
The extra energy also creates a more positive environment. "It's funny to see how people's attitudes change during taper versus the regular season because right before that we're in winter term and that's kind of the grind period. Everyone's kind of broken down and tired and not as energetic," said Wagner. "Once we get into these last two weeks everyone's goofing around and feeling great."
A common theme expressed by the coaches and swimmers was an increase in mental energy. Davisson and Cohen both said the constant training may create a gloomy environment. "When you're training that hard for that long a period of time, you break down physically and mentally. Mentally you're just off, cranky," said Cohen. "What the taper does is give you the chance to get some sleep and get your body rehydrated, and you're able to get sharp again and laugh again."
The prospect of taper gets swimmers excited for what is to come at championships. "Training so hard for so long without any rest in sight can get depressing," said Davisson. "I think the idea of taper and knowing that it works, that mentally gets them through the toughest part of the season."
Riemensperger said the extra energy and knowing that she will feel better makes her feel fast. "You want to feel good because if you feel slow, you're not going to do as well because swimming is 80 percent mental and 20 percent physical," Riemensperger said.
The Tigers hope the added energy will bring out their best times against powerhouses such as Denison University and Kenyon College, programs that have finished at the top time and time again.
DePauw will compete in the NCAC championships hosted by Denison today through Saturday.