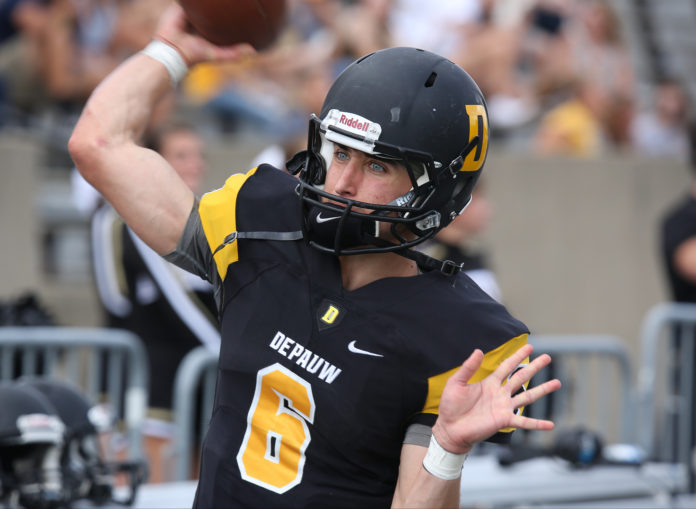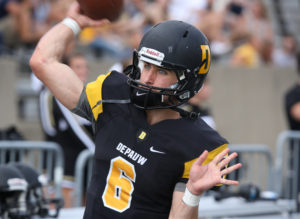 The DePauw Tigers football team found their victorious spirit once again with a 42-26 victory over the visiting Allegheny College Gators. The Tigers move to (7-1) on the season, with a record of (6-1) in NCAC conference play.
Senior quarterback Jake Lasky provided the spark for the DePauw offense by racking up 500 yards of total offense on the day. His total stat line concluded with throwing for 413 yards and five scores, along with 87 yards on the ground. Lasky breaks the 17-year-old school record of total yards from the line of scrimmage in a game set by Jason Lee back in 2000.
"It was crazy. You never really think of records while you're playing," Lasky said. "I was mainly happy our offense executed our game plan as well as we did. Finding out I broke the record was just an added bonus."
Allegheny grasped an early 6-0 lead with a nine yard touchdown pass from Logan Lee to begin the game, followed by a failed two point conversion event.
DePauw then answered back halfway through the second quarter with a 16 play, 98-yard drive, capped off by a two-yard touchdown run by junior running back Ramon Lopez. The scoring didn't stop there as Lasky tossed a 73-yard touchdown pass to senior wide receiver Jake Hagan and a 56-yard touchdown pass to junior wide receiver Andy Hunt minutes apart to close out the half 21-6.
"I think a main factor in our success was our ability to make big plays, especially on plays down the field," Hagan said. "The deep passing completitions combined with some long runs by our backs made for a lot of scoring, which ultimately put us on top."
Tigers' senior wide receiver Ben Wilson snatched a 54-yard touchdown catch and run to lead off the scoring in the third 28-6. However, the Gators began chipping away at the lead by scoring a pair of touchdowns of their own through the air heading into the fourth.
With a score of 28-20 to begin the fourth, the Tigers offense took over the game with touchdown passes of 15 and 39 yards respectively to Andy Hunt, widening the gap against the Gators to 16.
Hagan and Hunt finished the day with a combined 293 yards receiving, as well as four scores. Hunt has 12 touchdowns on the year, only one shy behind the leader. Linebackers Chandler Nicholson and Matt Crupi provided the wall on defense by recording eight tackles apiece.
"We made plays on defense when we needed to. The offense helped us out in the fourth quarter, it was a great team win," sophomore defensive end Anthony Sansone said.
The Tigers set sail to winless Kenyon (0-7) this upcoming weekend, as they head into their last contest before the Monon Bell rivalry game on Nov. 11.