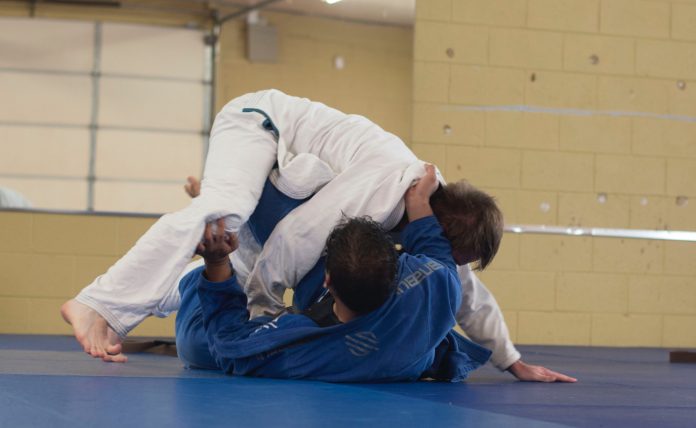 DePauw's Brazilian Jiu Jitsu Club attended the Extreme Grappling Open Tournament in Indianapolis on the weekend of April 28. The club took home two first place medals and four second place medals with each of the five competing students reaching the final rounds in their respective classes.
"Jiu Jitsu is all about joint locks and chokes, so we use the term 'grappling,' which means 'submission," said sophomore Dulguun Tuyatsetseg, or DT.
The competition was divided into two tournaments: gi and no gi. Gi features a traditional loose-fitting outfit, called the "gi," and the no gi class competes without the garment. The competitors are also further broken down into more specific classes based on weight and experience.
The club has been at DePauw for only one year and was created by DT himself. The team meets weekly on Tuesdays and Thursdays for lessons from an instructor from the Indiana Brazilian Jiu Jitsu Academy in Greenwood, IN. On Saturdays, the team meets for practice and technique drills. The club also provided kickboxing instruction last semester. "It's a club that is mostly centered around self defense," DT said. "This semester we've been focusing on the Jiu Jitsu aspect as we enter competition season."
DT advises potential members not to be worried about the terminology. "I promise, it really is not as violent as it sounds," DT said.
Team member Arturo Balcazar, who received his first win in the recent tournament, remembers getting "guillotined" in his first match. "It was definitely something more than I was expecting," he said. Another member, Mitchael Evans, was "joint-locked" in the elbows and ankles by one of his competitors. "I felt sore for days afterwards," Evans said. "The guys I went up against were pretty strong."
Evans received a first place medal in his class in the no gi tournament and second place for his class in the gi tournament, though this was only his second tournament. "There was just more competition this time. It felt like I really earned my medals this time around," Evans said.
He also said that the competitor he beat in the no gi tournament ended up beating him in the gi tournament, so he felt well-matched. DT considers Evans to be one of the most consistent members of the club. "He's a savage," DT said, "What can I say?"