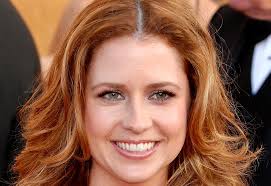 This spring the Timothy and Sharon Ubben Lecture Series will be inviting another speaker to DePauw University's campus. On April 17, actress and author Jenna Fischer will be speaking in Kresge Auditorium.
Fischer is a two-time Screen Actors Guild Award-winner and Emmy-nominated actress for her role as Pam on NBC's comedy "The Office." She is also starring on a new ABC show titled "Splitting Up Together" and recently authored a book called "The Actor's Life: A Survival Guide."
The event will be a moderated conversation between Fischer and moderator Ken Owen, Special Advisor to President McCoy. Fischer will be answering questions about her new book and television series and her experiences working with Clint Eastwood and her role as Pam on "The Office."
Owen said that her agency sent out a notice that she would be available for speaking, and Owen was immediately interested in bringing her to DePauw because she is a familiar face to so many students.
"You guys grew up with her," Owen said. "She's someone who has been in your living room."
Owen said she will also be speaking about her journey in the acting world. After studying acting and theater at Truman State University, Fischer moved to Los Angeles to pursue a career in acting. For several years she struggled to get her career off the ground, and after three years she finally landed her first television speaking role in California as a waitress on the television show "Spin City."
"She has a story to tell about perseverance," Owen said. "She's really stood in there and fought in her life."
Junior Mallory Dillon is currently off-campus for a semester-long internship, but she said this is one of the special occasions when she will make the trip back to Greencastle for the conversation.
"I've always been a Pam girl," Dillon said. "This is one of those Ubben Lecture speakers that is a can't miss and I am very excited."
Owen not only believes the current DePauw students will be excited for the conversations, but he thinks this will be a very intriguing speaker for a lot of alumni.
"It's a reason to come back to campus," Owen said, adding that it is also appealing to prospective students when they see that DePauw is hosting a speaker like Fischer.
Junior Dom Miranda has been a fan of "The Office" for years and is looking forward to this lecture more than any other speaker that has been to DePauw during his time.
"Pam Beesly at DePauw University. I honestly feel as if this is a dream," Miranda said. "I am beyond excited that she will be walking the streets of DePauw.
The program will begin at 8 p.m. in Kresge Auditorium and will be free of admission.