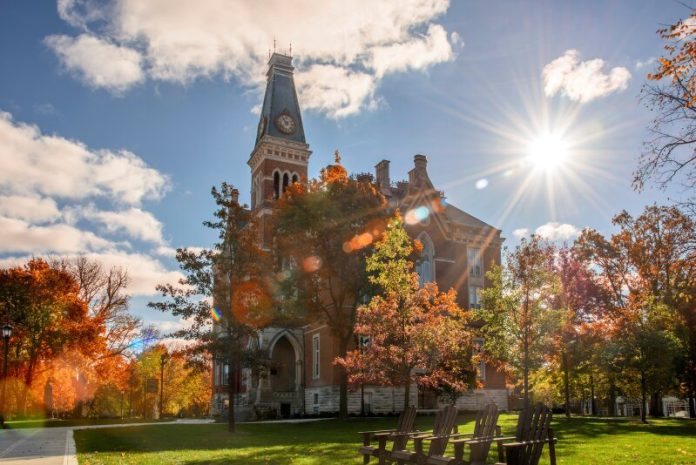 According to DePauw's audited financial statement from 2022, the university's total expenses in 2022 have exceeded revenues by $7,506,457, meaning that the school is running on a budget deficit. This raises the question of whether DePauw is heading toward a financial crisis.
According to Dr. Andrea Young, vice president of finance, running on a deficit is intentional. She said that DePauw ran on a surplus of about $10 million in 2020 due to the uncertainty of how much revenue the school would lose during COVID. Therefore, to offset the surplus, DePauw ran into a deficit in 2022.
"This sort of thing is fairly common…[In 2020, the administration] proposed taking an additional draw from the endowment to cover anticipated expenses due to COVID because no one knew if we would just be shut down completely or not. Now we're essentially trying to spend that [surplus] down to reduce pressure on endowment," Young said.
Young added that using cash from endowments, however, is not sustainable in the long term.
"It was sustainable for last year and this year. It would not be a long-term strategy though," she said.
According to Young, since the launch of the Gold and Bold Strategic Plan, DePauw has strived to create "a flourishing university" by reallocating tuition dollars and resources.
"We are undertaking right now an institutional project that we're calling 'capacity building'. To really identify how we are using resources, our institutional resources, and how we could better align our resources with the needs and the strategic vision of the future," Young said.
Young said that one of the purposes of capacity building is to reduce the pressure on endowment draw. This means that the university needs to find sustainable ways to make the expense side smaller and smaller over time, according to Young.
"The challenge that DePauw has faced is that we have been relying on our endowment more than is sustainable for the long term," Young said.
According to Young what capacity building entails is making sure the university is spending money adequately, negotiating prices, reducing expenses, and making sure the administration is being a careful steward of its resources.
"Beyond just this being the strategic need of the institution, this is what's happening in higher ed right now. Costs continue to rise, and it's increasingly challenging for students to afford to attend institutions of higher education, so institutions, all institutions, not just DePauw, need to be increasingly mindful of how we spend our dollars," Young said.
When asked If there is going to be a spell of layoff to reduce DePauw's expenses, Young said that there is not going to be a mass layoff. However, she added the university does take into account the student-faculty ratio when it comes to which departments need to be shrunk.
"Today we are a school of about 1700 students compared to six or seven years ago when we were a school of 2200. The faculty size has been getting smaller over time as the student body size has shrunk, and this, I would argue, is somewhat to be expected because we have fewer students. Therefore, we need fewer people to teach them," Young said.
She added that Dave Berque, vice president of Student Academic Affairs, has been transparent with the faculty about the desire to maintain a certain student-faculty ratio.
"There is not a plan to intentionally disenfranchise certain departments, but I think this is all part of a collaborative process that the faculty is undertaking around how to design a curriculum that supports the three-school model," Young said.
Young said she is not certain about how the size of the faculty will change next year, but she anticipates some changes in certain areas to get the student-faculty ratio to a more sustainable level.
Young also touched on the fact that DePauw's net tuition—the revenue received by the school after giving out scholarships— has also decreased. She said that this is one of the biggest issues in higher education these days.
"I am very mindful of the context for our students, which is that college is an extraordinarily expensive proposition and that this is a really challenging time for many students and families to afford college," Young said.
Young thinks the strategic plan is intended to improve DePauw's value proposition to help recruit more students.
"This is a process that takes time and we're in a, a macro environment where there are fewer students graduating from high school and going to college, and we're in an increasingly competitive marketplace," Young said.
Young added that a declining net tuition revenue has always been an issue for DePauw, even in the 90s.
"This is not a new state of being," Young said.
Young touched on DePauw carrying a debt of over 150 million, according to the audited financial statement, and said that that number is low relative to DePauw's peers.
"There is room lenders would lend to us. I'm not saying that we are looking to take on more debt, but there is capacity in our ability to take on more debt," Young said.
In terms of funding the new Business School and the Creative School, Young said that those are going to be funded through fundraising.
"A big part of what the president does at an institution like ours is, she goes and tells DePauw's story to potential donors, and she's doing that and she's doing it wonderfully, as you can expect," Young said.
Young hopes that donors will be drawn to funding both schools, instead of just the Business School.