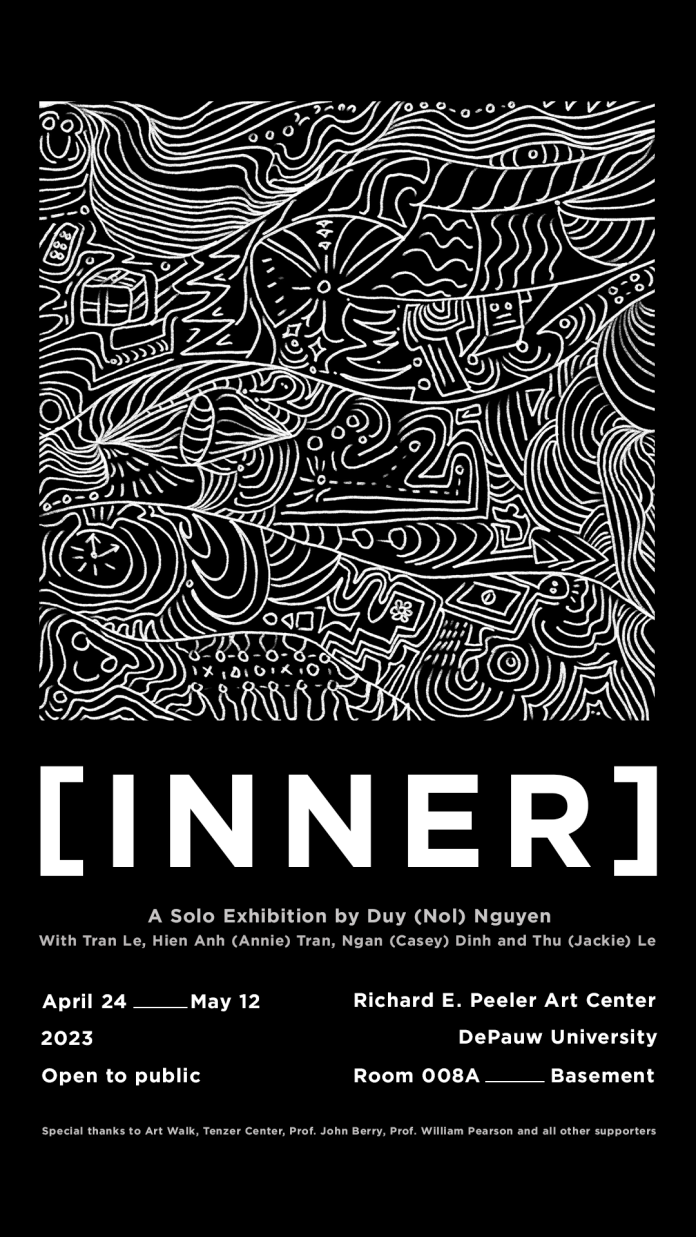 As a part of the Art Walk 2023, a weekend-long, interdisciplinary arts festival on the DePauw campus, the "Inner" art exhibition is set to open on Monday, Apr. 21, and close on Friday, May 12. first-year Nol Nguyen, "Inner" arts director, described his solo exhibition as inviting visitors to "reflect on the different stages of life and the inner concept of everything."
The exhibition features five different types of arts, including photography, projection mapping, digital sculpture, drawing, and painting. According to first-year Marketing Manager Annie Tran, each of the artworks connects to a different aspect of life, like family, friendship, love, and hard feelings that people may experience growing up.
Nguyen wants the exhibition to be an opportunity for everyone to explore their inner self and thoughts that they do not usually share with the outside world.
"In our core team, all five of us are non-Arts majors," he added. "So, I want to see how people who are non-Arts majors and who do not have any prior experience in arts can actually do an exhibition and how people in different fields represent themselves."
Nguyen said the exhibition benefits from having organizers in different majors and expertise as there are people to take care of arts, marketing/public relations, budgeting, and technology.
Working with students from different fields also presents communication challenges, according to Tran. She said that most of the team are first-years discovering various interests and learning new skills, so the exhibition is their opportunity to explore themselves.
"It's like I have my idea, and you have your idea, and it's really hard to collude the ideas to bring the best outcome for the exhibition," Nguyen added. "But, I think the exhibition is going to answer that question and I'm going to learn how people interact together."
Another obstacle, according to Nguyen, is the time constraint. He said that "Inner" had been put together in four months, while artists typically spend one to two years preparing for their exhibitions. "Inner" also makes use of sophisticated technology for projection mapping and digital sculpture, which complicates the process.
When asked what motivated him to carry out such a large project in his first year at DePauw, Nguyen said that although it is an arts exhibition, other components like marketing, audio, and organizational communication have come together to actualize the project. "Anything like this really helped me gain more experience in my major [in economics and organizational analysis]."
"There are a lot of talented people and I don't think age matters in art. So if you want to do it, just do it," Tran added.