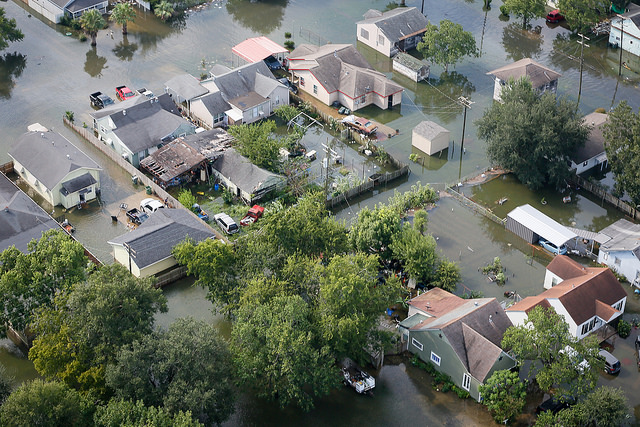 Junior Lauren Schiller's family is in the midst of the United States' most recent natural disaster, Hurricane Harvey. Fortunately, her loved ones have not been significantly affected, but the storm's aftermath has nonetheless left its mark on their lives.
The tropical storm landed on the Texas Gulf Coast on Aug. 2. According to The New York Times, rainfall exceeded nearly 50 inches in some areas, resulting in enormous floodwaters and damages. Contaminated water and chemical hazards are also major concerns in regards to the safety of residents. As of now, 39 people have died and survivors are struggling to find room in shelters and much of the worst damage is in and around the Houston area.
Currently, one of the most difficult obstacles for Houston natives is obtaining supplies. Schiller told The DePauw about how her father attempted to purchase a water pump at a Home Depot guarded by armed officers, but the entire store was sold out. She explained how difficult it is being away from home, as she currently resides in New York doing a semester long internship.
"It hurts to see the amount of people that have lost everything," Schiller said. "It's also disheartening to see a number of streets that I grew up driving on completely torn apart by the vigorous current of the flood waters."
Schiller believes the"vibrant and diverse" city of Houston will repair itself in the coming months.
DePauw graduate and journalist Mike Morris '07 is currently reporting directly on the scene in Houston at The Houston Chronicle. When explaining his experience to The DePauw, he immediately emphasized the enormous extent of the damage, "This storm ruined the entire region, and it has been impossible to truly comprehend how widespread the damage is," Morris said. "Reporters want to see everything firsthand to believe it, but that's just not possible in this case."
Throughout the past week, Morris has been gathering information from Houston Mayor Sylvester Turner and city officials for news stories. Although his house is intact and his family is safe, Harvey's aftermath has still wreaked emotional destruction for Morris.
"It's been a stressful week for all of us. Colleagues have lost houses and cars, or may lose them in the coming days," Morris said. " My wife and I have lived in Houston eight years, and this city has become home."
Junior Georgia Green's family has also experienced first-hand the effects of the hurricane's detrimental rainfall and flooding. Although her mom and stepdad live just north of the Houston area and did not have to evacuate, some of her relatives and friends are staying with her family to avoid danger. "It's unsettling because I'm not there," Green said. "I look at pictures of flooding and know where that is."
Green recalled how her grandma in Houston even saw someone being picked up by a helicopter and brought to safety.
Both Schiller and Green agree that despite the storm, it's been amazing to see how the Houston community has united under such disastrous circumstances. Massive volunteer efforts across the Houston area have already formed without the help of official government direction.
"It is inspiring to see so many people giving (time, food, clothes, supplies, etc.) and coming together to help one another," Schiller said. "That is what Houston is all about."
If you are interested in helping the relief efforts in the Houston area, donate to The Red Cross or Houston Texans quarterback J.J. Watt's Houston Food Relief Fund, which has already surpassed $12 million in donations toward Hurricane Harvey victims.