Representing Iowa City, Iowa, from the diverse population of students at DePauw University, is a brilliant young man, Brian Wolf. The 21-year old DePauw Tiger is currently completing his junior year and is leading an active life on DePauw's campus. Brian is a second generation Tiger and will soon continue the legacy from his mother, who once too graduated from the university. Brian was drawn to DePauw for the tennis program, as well as the Management Fellowship Program.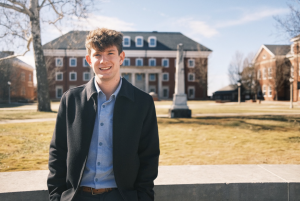 Brian initially began his studies unsure of a major, but after taking a computer sciences class during his sophomore year, he fell in love with the course and declared it as his major. Brian is proud of his participation in the Management Fellowship offered at DePauw, stating that it has helped him to secure internships as well as figure out what to do after graduation. From an opportunity through Management Fellows, Brian spent his past summer as a data management intern.
This year will be Brian's second year as a Resident Assistant. This time around, he is a Resident Assistant for Longden Hall. He enjoys the role saying, "I like it because I get to meet and interact with many different people."
Brian loves being on DePauw's Courts, as he is an avid tennis player. The sportsman partakes in team practices to improve his swing and stay on top of his health.
So far, Brian says that he has had a great time at DePauw. He has his goals set on taking advantage of the close alumni network. When asked if he had any pieces of advice for the students here at DePauw, he advises students not to be afraid to go against the crowd and to stand out. He explains that "You will eventually find people who are doing the same thing as you and find your place.''