A few weeks ago, DePauw University welcomed its incoming class of 2027. Amongst them is Anya Melson, a passionate 18-year-old swimmer who was excited to join the school. Anya comes from Wheaton, Illinois, and discovered DePauw in her senior year of high school during a swimming recruit visit. She fell in love with DePauw's small campus, intimate academic classes, and liberal arts education system. She is a proud member of the Honor Scholars Program, which caught her interest for its focus developing scholars' academic abilities in preparation to write a final thesis before graduation, which aligned with her career goals of attending grad school. Anya is interested in majoring in psychology as she aims to obtain a doctoral degree in this field in the near future.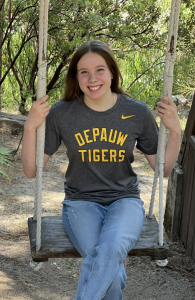 A big way in which Anya contributes to DePauw is through her athleticism as a devout member of the official swim team. She comes highly qualified with over 10 years of swimming experience in aquatic sports, including professional swimming and synchronized swimming. Anya has had the opportunity to meet her coaches and swim teammates throughout this past week in preparation for the official start of the season and first official practice on Sept. 18.
Anya shares that she has settled in, made friends, and gotten used to her routine here at DePauw. Her favorite things to do during her spare time is to read, cook and bake. She anticipates that her swimming career is going to keep her busy apart from her academics. She plans on soon joining the Science Research Fellows for an opportunity to gain psychology research experience in her field of psychology.
Anya is excited to explore Greencastle, sharing how ''There's more to do than you might expect. So many restaurants, a farmers' market, a cinema, a bowling [center,] and much more''. Anya also advises all other students to always keep an open mind and to remember to take advantage of all DePauw University has to offer.