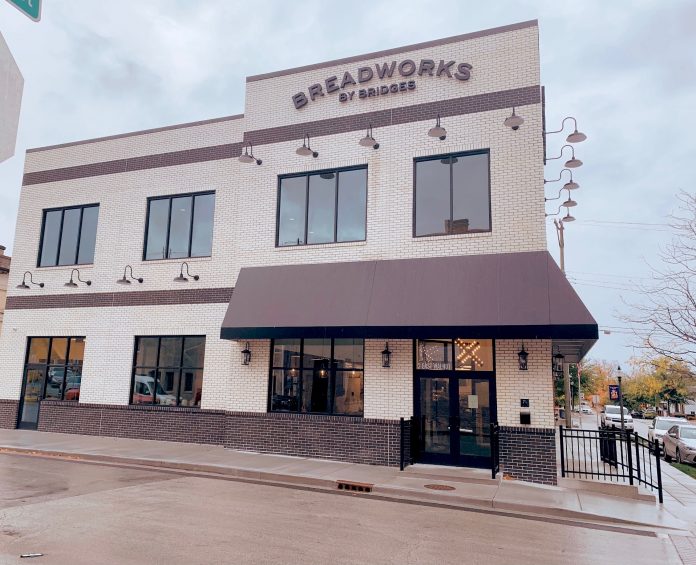 If you're looking for a cute bakery in Greencastle with calming guitar music and the ambrosial smell of coffee, then Breadworks by Bridges is the place for you.
Breadworks opened on Oct. 14, and the crowds have persisted into the weekend.
The bakery is located downtown Greencastle, between Scoops and the fire station. It is open Wednesday through Sunday, 8 a.m. to 4 p.m.
The outside of the bakery is refined and welcoming, with a monochromatic black-and-white color scheme and several windows. It is reminiscent of shops you may find in big cities- a nice contrast to the rural areas Greencastle is commonly associated with. Unique about the exterior of the building, though, is a large window on one of its sides that showcase bakers preparing the goods. This gives the place a more authentic feel.
As you walk inside, you are greeted by the aroma of the freshly baked bread proudly displayed in the front of the store. Twinkling lights reflect off of the tall ivory walls and glossy mahogany floors. The bakery is embellished with distinctive furnishings. Looking up, you can see an ornamental fixture of a large black circle with black, tan, and white colored rolling pins attached to its base and cascading downwards.
The bakery is two stories, with all the goodies made and ordered on the ground floor. Though the first floor does have a few seating arrangements, the second floor is where most of the seating areas and tables reside, along with large, open windows used to view the yellow and orange trees, and a few flat-screen TVs. Vases filled with flowers and bell-shaped lights complete the decor.
The staff- both the bakers and those taking orders- were wearing masks and ensuring that their entire mouths and noses remained covered. They took and prepared orders in a timely manner, and provided overall excellent service.
The baked goods at the shop are delectable. My friends and I ordered a dozen chocolate and cinnamon cake-donuts. Though they were small, the decadent donuts, with their moist centers and crispy surface, carried an abundant amount of warmth and flavor.
Boasting their donuts, Breadworks also bakes various pastries such as strudels and cake-cups, as well as a range of breads, including baguettes, focaccia and sourdough.
To wash down these sweets, Breadworks offers a variety of drinks, including espressos, teas, iced coffees, sodas and a collection of juices coined "Natalie's Juice".
The cappuccino is satisfying to drink, and is ideal for those who enjoy the true taste of coffee rather than an overly-sweet savor.
Prices are similar to other establishments, with an assortment of a dozen donuts priced at $11, compared to a dozen specialty Krispy Kreme™ donuts costing $11.39.
One of the things that makes Breadworks so special is its genesis. Breadworks is owned by Joyce Green, and her late husband Judson. Prior to this, the two established Bridges Craft Pizza & Wine Bar, as well as the community space "Music on the Square". Judson Green is a 1974 DePauw graduate, and Joyce graduated a year later. The philanthropist couple have donated a total of $30 million to DePauw's School of Music, and are the namesakes of the university's Green Center for Performing Arts. After Judson Green passed away Sept. 1, 2020, Joyce Green, as well as others in the Green family, commemorate his life with the bakery.
Right now, the shop is bustling with clientele, so it may not be the best place to study. However, it is excellent for those wanting to grab a quick bite of something saccharine to help gain energy before studying, or to enjoy a nice brunch. Overall, the abundantly lit bakery is definitely worth visiting if you're in the Greencastle area.