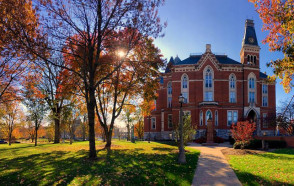 In light of recent tragic events associated with Greek life on other college campuses, President Mark McCoy launched a Greek Leadership Commission in order to assess "the good, the bad and the ugly" of DePauw's Greek community, according to an email sent out to DePauw faculty by co-chairs of the commission Lawren Mills and Brent St. John.
The leadership commission had its first meeting in early Nov. 2017 and is comprised of trustees, alumni, faculty, staff, students and some "area professionals," according to McCoy. "I'm trying to make [DePauw] the strongest Greek system [it] could possibly be," McCoy said. "I define that system as a very open and inclusive system that develops leaders [and] is a partner in giving students the best academic experience they could have."
Because the goal of the members of this commission is to discover the "best practices for all [aspects] of the Greek and independent experiences," their concerns include high risk behavior on campus, McCoy said. "High risk behavior is not just a Greek problem. It's not just a DePauw problem. It's an American problem, and its an international problem," he said. While McCoy and the commission are aware that this behavior is not limited to the Greek community, recent national events have sparked re-examinations of Greek communities and DePauw is not an exception.
Prior to the launch of the Greek Leadership Commission, universities such as Penn State University, Florida State University and Louisiana State University had experienced devastating student deaths in relation to fraternity parties, according to the New York Times.
These events caused universities all across America to take a look at their Greek organizations and assess how they can minimize these incidents and keep their students safe, McCoy said. "Nothing can keep us perfectly safe," he said. "The world is not a safe place, but we should do as much as we can on the high risk behavior front as pertains to [not only] alcohol but drugs, sexual assault, race and gender."
In addition to limiting the dangers on DePauw's campus caused by high risk behavior, the Greek Leadership Commission is trying to "increase the awareness of Greek life and build it into something that is better Nationally," sophomore and Panhellenic representative of the commission Anneliese Waalkes said. "We want to have the best Greek system in the country that consists of not just 'Greek life' but philanthropy events so when you hear 'Greek life' you don't just think of drinking culture."
At this early stage in the Greek Leadership Commission, the members are on a "fact-finding mission" to improve the Greek system on DePauw's campus, according to Waalkes. The members are looking at housing, financials, philanthropy events and general equality and inclusiveness within the community to come up with a better way for the Greek life system to operate within the greater DePauw community.