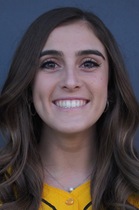 This summer, senior Katerina Panos gave "going Greek" a whole new meaning. Panos spent her summer playing softball for the Greek National Team and representing Greece at The European U22 Championship in Slovakia.
The Greek National Team is open to individuals of direct Greek descent with Greek citizenship. Panos learned of the team through her dad who is from Rizes, Greece.
Panos described the application process as relatively simple. "I reached out to the president of the Greek National Team organization and from there we have to meet a certain number of requirements," said Panos.
She then explained that she had to attend training camps held across the United States to be evaluated for membership on the team.
"Softball is not a common sport in Greece and it is not always easy to find players to play," Panos said. As a result, the Greek National team must recruit individuals from other countries who are eligible for the team and capable of performing at the international level, like Panos.
Panos also provided a deeper look into the experiences she had on the team explaining that retaining membership on the team is a continuous process consisting of training camps that act as both tryouts and practices. "The Greek National Team runs practices a little differently than expected" Panos said. The team's travels took Panos to a tournament in Trnava, Slovakia.
This experience not only allowed her to compete against a wide variety of teams, but also exposed her to a wide variety of team cultures. "Playing at the international level offered a lot of positives as well as surprises," Panos said. "I was able to meet girls from around the world and learn more about our sport in their culture. For example, the players on the team from Turkey play wearing a hijab and players from Israel wear long skirts over their softball pants."
Panos' DePauw coaches weighed in on her success with Assistant Coach Gabby Smart describing Panos as "a fireball of energy and determination."
Additionally, DePauw Head Coach Erica Hanrahan called her a "strong leader by example" who always "finds a way to get it done." Hanrahan will accompany Panos to the Netherlands this September for another tournament with the Greek National team.
Both coaches agreed that Panos is well-deserving of the opportunity. One unique aspect of playing for the Greek National Team for Panos is that it connects her passion for softball with her cultural roots.
As for the upcoming softball season at DePauw, Panos and her coaches are optimistic. The roster includes 13 new first-years, whom Smart believes will contribute greatly to the program.
Panos believes that the team has a real chance of competing at nationals this year. "I hope that with a lot of hard work, training, and dedication that we can make these goals a reality," Panos said.
Panos' athletic ability and leadership capabilities allowed her to compete at an international level, an opportunity that many collegiate athletes can only dream of. "The experience itself was nothing at all like I expected," Panos said. "Playing at the international level offered a lot of positives as well as surprises. "