From Nov. 9-12, the DePauw Theater Department brought a beloved William Shakespeare masterpiece to life through their theatrical adaptation "Romeo and Juliet at Bridgerton"
With exhilarating fencing sequences and an occasional cup of tea, the adaptation follows the Shakespeare tale that many of us have encountered from our high school literature classes. The play depicts the forbidden romance of Romeo and Juliet, surrounded by a family rivalry between the Montagues and Capulets. The ending leaves both lovers to a tragic fate of death, with Romeo drinking a vial of poison after believing that Juliet is dead. When Juliet is woken from sleep, she later kills herself with a knife upon witnessing Romeo's demise.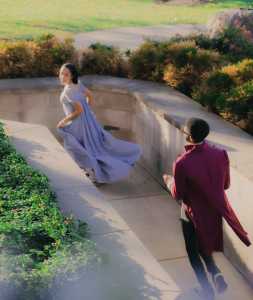 The play was directed by Professor of Communication and Theatre Caroline Good and Jenna Reynolds '25, assisted by Madeline Humphreys '23 and Ja'el Thomas '22. Inspired by the hit Netflix show "Bridgerton," the directors implemented elements from the show such as the dresses, the fencing scenes, and the addition of British accents that each actor had to master for their role.
The DePauw spoke with fellow actors Laila Padilla '24 (Juliet), Griffin Chyall '25 (Tybalt), and Cameron Foster '26 (Romeo). These students spoke about many aspects of the play, from their initial interest in acting to their rehearsals and performances.
Cameron Foster (Romeo)
Foster shared what got him interested in acting: "I did improv a lot when I was a kid. . . . And I took an acting class in my senior year of high school, and I loved it," he said. "Last year was my first show here at DePauw. I was one of the four lead characters in The Seagull. I was Gregorian."
Foster also spoke about the process for "Romeo and Juliet at Bridgerton," stating, "They told us we do it using our British accents in the show, so I knew I wanted Romeo, so I worked on my British accent over the summer. My aunt is a vocal coach, so I worked with her a lot over the summer. . . .I ended up landing on the monologue where Romeo talks to Juliet for the first time because I knew that would be a scene that would be hard for me."
Foster also explained why he chose the role of Romeo: "I knew enough about the show to know that I wanted to be Romeo. During my callbacks throughout] the audition process, they had me play as Mercutio and Tybalt. And when I played Mercutio, I was a little sad because I was like, I low-key would rather be Mercutio. Like, it was just so much more fun to play as super cocky and confident. And Romeo just kind of cries the whole show, which is fine."
Cameron also shared his thoughts about being cast in the second DePauw production with Black lead characters. The first was a play in 2017 where the whole cast was Black.
"Laila and I are two of the few people of color in the show," Foster shared. "I wouldn't say it adds any amount of pressure or anything. . . . part of me was scared that me and Laila were going to get it, not because we earned it, but because we looked good on a poster. . . . but now that …opening night is tonight, we knew this group of people was the right choice."
Foster ended his interview with some final words to the readers of The DePauw and the school community.
"First of all, thank you for your continued support. I love that I'm able to contribute to the fun stuff on campus. . . .But I just hope you enjoy it. I really do."
Griffin Chyall (Tybalt)
Afterwards, The DePauw spoke with Chyall about his initial interest in acting.
"I've been acting in shows since I was seven years old. . . .I believe this is my seventh or eighth production here at DePauw," Chyall said, outlining his previous roles such as Peter Eshal in "Silent Sky" a chorus membor in the opera "Daito and Ineas," and a stage manager in "Steve Outta Here." "Recently, in my junior year, I played Lucas Beinecke in 'The Addams Family.' Now I'm Tybalt in 'Romeo and Juliet.'"
Chyall then elaborated on his audition process, stating, "I was in communication with the director, Caroline Good, of what she's looking for in certain characters. I just experimented. I tried speaking in a British accent. I walked around with better posture because my character likes to be more proper. When I auditioned, it was a couple of days right after 'Addams Family,' so there was a quick turnaround, but that was my audition process."
Chyall also additionally spoke on his reaction to being selected as Tybalt,:
"I was excited. In all honesty, I was auditioning for Mercutio, and Jason Benyousky '27 does a great job as Mercutio, and he's very talented. I'm very excited to see what he does in the future here at DePauw. Only good words for him. And he fits him perfectly. I think Tybalt fits myself as well. I can't complain because I was just in the previous show, and it's been a fun journey playing Tybalt."
Laila Padilla (Juliet)
Lastly, I spoke with Padilla on her acting journey since her childhood.
"I'm from New York City," Padilla began, "so I was in different theater programs such as The Possibility Project in New York City. . . .This is my third production at DePauw. My first one was my sophomore year. I was in 'Steve Outta Here'. That was my first show. And I played the role of Nicole. Following that was Ifa Janiah, for 'Crashland Falls On The Neon Shell.'"
I also spoke with Padilla on the auditioning process for "Romeo and Juliet in Bridgerton." She shared: "I really went into it not wanting a super demanding role like Juliet. I was actually trying to take a backseat this year, being a senior… I did actually audition with Shakespeare monologue that was really intended for me to go after the nurse character role."
Padilla shared her initial reactions to being cast as the lead character Juliet after a series of callbacks during the audition process:"Honestly I was shocked, utterly shocked . . . I didn't know what direction they were going with this show, so I didn't think that I was even going to be cast as Juliet."
Padilla also added on the pressure she feels in playing a role as well-known as Juliet.
"It's daunting and I definitely felt the pressure. But with this adaptation, Caroline's just been great helping me and the cast is great to lean on, and we have such a huge cast so there are so many people that are newly doing Shakespeare, myself included. This is my first ever Shakespeare production so yeah it's daunting, and it is definitely some pressure, but I'm here for it."
Padilla also spoke about how initially she actually resonated with Lady Capulet instead of Juliet: "Lady Capulet is a very interesting character. I find her to be so compelling, and she piqued my interest completely because her attitude and her personality is vague. But it can be interpreted in so many different ways, and I think they can make her more elusive or seductive or independent or threatening…Lady Capulet, the nurse, and Juliet all have dynamics to them that are really really three-dimensional."
Lastly, similarly to Foster, Padilla also spoke about her thoughts on being cast as a Black lead actress.
"This is my fourth year at DePauw, and we do understand this is a predominantly white institution. So for things like this to happen is very rare, but I hope it doesn't shy people away from the show...I want them to celebrate this opportunity that the entire cast is getting because it is meant to be celebrated, and I think we bring something different to the show. But it also echoes the adaptation of it because this is 'Romeo and Juliet at Bridgerton,' and if you are familiar with the hit Netflix TV series, it is a very diversified cast. There are things that have been done before, like 'Hamilton' on Broadway is very diverse and represents historical figures that are known to be white only, and they are bringing something new to the character bringing a new aspect you haven't seen before."
This incredible and talented diverse cast produced an intriguing and funny performance in all their showings. The DePauw Theater Department's adaptation of William Shakespeare's "Romeo and Juliet" did not disappoint, from the talented and comedic pairing of Benvolio and Mercutio, to the amazing chemistry and performance from Romeo and Juliet. Overall the cast was stunning and the performance was amazing. Once again, the DePauw Theatre produced a masterclass with "Romeo and Juliet at Bridgerton."