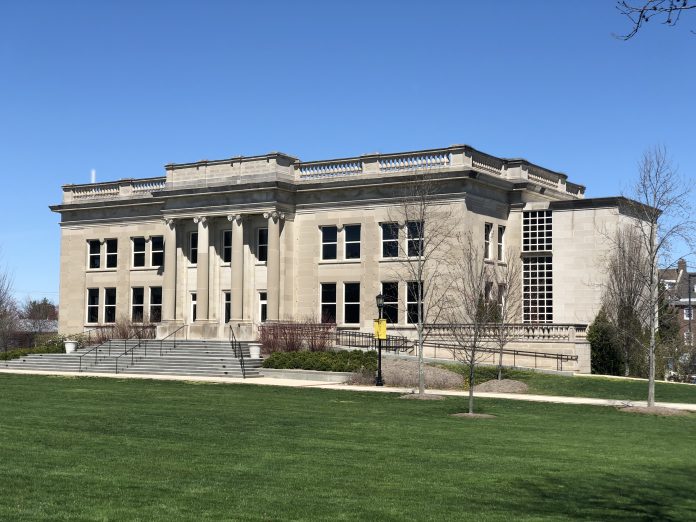 *This story has been updated*
Four student tour guides resigned from their positions as Tiger Ambassadors in the wake of recent bias incidents on campus. The resignations were in response to the Office of Admission's instructions about talking to prospective students about the bias incidents.
A series of racial bias incidents have appeared on DePauw's campus in the last week.
On Wednesday morning, a memo was sent by Anna Logan, visit coordinator, to all student tour guides explaining how to "respond appropriately to families" if discussion of the recent events occurred. "Please be honest in sharing your own experiences but also keep in mind you are representing the University," the email stated.
Also included in the email were two attachments. The first attachment was a picture of a message to the DePauw community, specifically President Mark McCoy, from "a tuition paying DePauw student of color" written on the whiteboard in the entrance to Roy O. West Library. Tour guides were warned to be aware of the message when leading tours of prospective students and their families. The second attachment was a list of "suggested talking points" should families or prospective students ask about the bias incidents.
First-year Light Laleye was one of the four students to resign as a student tour guide. She replied to the email with her resignation, "I am deeply offended by your attempts to silence my voice." She criticized the original memo for simply instructing students instead of offering support, writing, "Have you reached out to the students of color that you supervise and expressed any support for them? What have you done for us?"
In an interview with The DePauw, Laleye described her disappointment with DePauw's administration for attempting to minimize the impact of the bias incidents, "[DePauw] should be honest...they're being watched." She says if similar bias incidents were occurring on campus when she was a prospective student, she would have wanted to know, "It would have factored into my [college] decision."
Laleye also noted that as an incoming student, DePauw was advertised to "look more diverse than it actually is."
Sophomore Alexandria Jackson also wrote an email of resignation with reasons for her decision, saying, "As a SOC [student of color] I do not feel comfortable leading tours around our campus and encouraging students to attend a university that is instructing its student employees to diverge racial incidents from the public eye."
"[The Office of Admission] trained us to speak this language," Jackson said. "I'm baffled by how the administration has handled the bias incidents."
Like Laleye, she feels DePauw was advertised to her as an inclusive community, but her experiences have indicated otherwise.
The two other tour guides who resigned were unavailable for comment at the time this article was published.
Anna Logan said she would not comment on personal matters.
Both Laleye and Jackson emphasized that they do not want their individual experiences to take away from the goals of current student activists on campus.