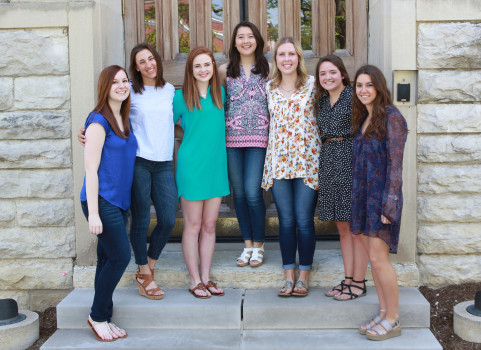 Only 75 of 302 first-year women are currently registered for 2018 Panhellenic Association Recruitment. The Jan. 14 deadline for formal recruitment is approaching quickly and some members of the Panhellenic community are curious as to why so few women have signed up.
This is the first time Panhellenic has tracked recruitment registration so this year's statistics cannot be compared to previous years, but the small amount of applications is notable.
According to senior KJ Holden, vice president of panhellenic recruitment, around two-thirds of first-year women should have registered by now.
Junior Ashley Beeson, president of Alpha Chi Omega, explained how small pledge classes are "detrimental to houses." Typically, around 30 women will enter a house every year. However, if there is a low quota, fewer women will get bids. The expense of dues will rise and more women will be required to live in the houses. She also says more men are signed up for Interfraternity Council (IFC) than Panhellenic.
First-year Jennalyn McNeal has not yet registered, but fully intends to go through formal recruitment. "When the recruitment deadline came out around October and I noticed it wasn't due until January, I kind of just pushed it aside," McNeal said. She also mentioned that encouragement to go through formal recruitment has been impersonal, saying, "Upperclassmen haven't really been pushing it and the emails we get about registration are just from the Panhellenic Committee."
The process for signing up for Panhellenic recruitment is relatively easy. On the DePauw website GO GREEK page, a link can be found for "Registration for Spring 2018 Sorority Recruitment." The online form consists of ten steps and is similar to a simple job application, requiring items such as contact information, current activities and a resume.
Holden is not worried about more women eventually registering, "We just want to encourage women to sign up and hopefully the upper class will continue encourage [underclassmen]." One worry about last-minute registration is if a student is abroad during Winter Term and unable to access internet services, she may miss the registration deadline.
The DePauw reached out to Nick Stepaniak, the panhellenic advisor, for his opinion of the current situation, but he was unable to respond before the deadline.
To encourage and help women sign up, Panhellenic will be in Hoover Dining Hall on Dec. 6. As Jan. 14 nears, more emails will be sent out with the registration link.
Neither Beeson nor Holden are worried about registration eventually filling up, but in order for houses to succeed socially and financially next semester, more women must sign up.
The lack of current sign-ups could be attributed to a variety of reasons. Registration requires a $40 registration fee and many students may be consumed by upcoming finals.
Holden mentioned she has personally noticed more diversity in each incoming class of DePauw and says, "Panhellenic may not entice everyone... Panhellenic needs to go out and attract women."