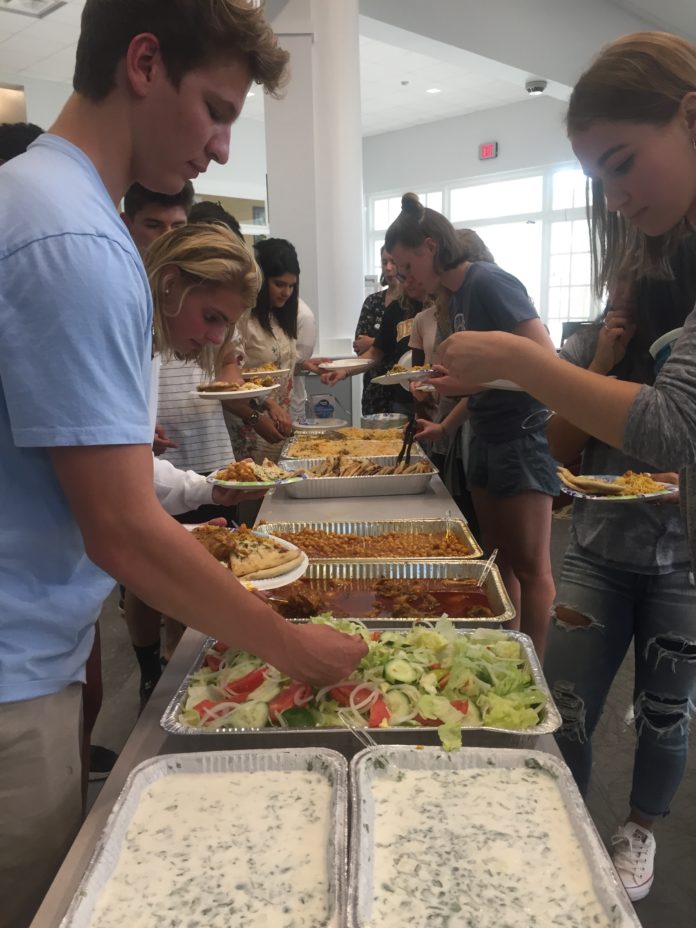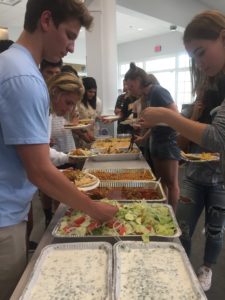 Last Friday, students of both Muslim and non-Muslim faith gathered in the student organization space for the Muslim Student Association (MSA) festival honoring Eid al-Adha with food, music and dancing.
Eid is a Muslim holiday commemorating the Prophet Abraham's devotion to Allah, or God. It falls on the tenth day of Dhu al-Hijjah, the last month of the Muslim calendar. Although this year Eid fell on Sept. 1, the Muslim Student Association held it a week later. According to first-year Syed Muhammad Mustafa, MSA "wanted to prepare, because on that week we also had prayers and stuff to do, so we weren't able to manage both at the same time."
Mustafa got involved with MSA because the organization was a comforting space for him since moving half-way across the world from Pakistan to get to DePauw's campus. "I felt pretty homesick with the culture shock and everything, and [MSA] reminded me of home," Mustafa said.
Eid is the Muslim equivalent to the Christian Christmas, and much like Christmas, Eid is a very family and friend-oriented holiday. "It's basically family, well we have friends, but we consider them family," Mustafa said. "Back home we visit our family for the first day or two. And all the families gather up in one place and just eat food and enjoy themselves."
One thing many of the MSA members miss the most is eidi, which is when the elders of the family give the younger members pocket money, so that they can spend it on whatever they want.
The variation in food options made a lot of students happy. "Yeah, it was great! I'm vegetarian, so I didn't know if they would have vegetarian food, but they did and it was great!" said sophomore Claire Mohney. All the options, such as Dhal and rice with chicken, were Halal.
Mustafa was excited by the outcome. "I was quite surprised to see that domestic students, people that weren't Muslim, actually engaged in it," Mustafa said.
Junior Kiara Goodwine thought the celebration was a great experience. "I think it was a really positive event, a lot of people came and it was really fun and great," Goodwine said.
Mohney agreed when asked if there should be more cultural events, like Eid, on campus. "Yeah, I think more people should come because it's important to embrace the culture of our international students," said Mohney.
Goodwine expressed the same ideals of support in inclusion and integration on and off of campus. "It's really important for students who come from backgrounds where they don't know about Islam or they've never meet a Muslim before to interact with Muslim people and to experience their religious events and holidays," Goodwine said.
In the future, Mustafa hopes to advertise events earlier, giving people more of a heads-up for the events that MSA hosts on campus in the hopes of drawing a bigger crowd to celebrate with them. "I want to spread more awareness about Eid so that a lot more people can come," Mustafa said.