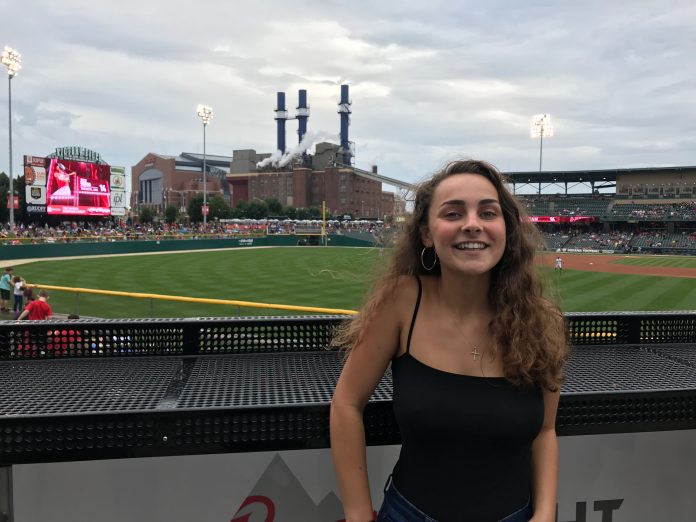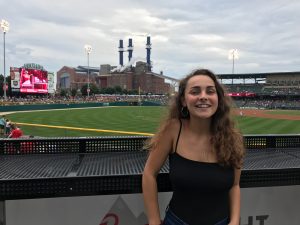 We hopped off the DePauw shuttle at Victory Field in Indy for the big, well minor-league, Indianapolis Indians versus Columbus Clippers game around 6:30pm on a Saturday. Unfortunately for Indians fans, they lost in a rough upset 6-1. Fortunately for me, I didn't have to stay for the entire beating.
My night started with the 50-minute bus ride...in which I learned that I didn't need WiFi in order to catch up on the Jane the Virgin  season finale on my phone. When we arrived at the baseball game, it was cold and rainy—not optimal given that our seats were lawn seats. We were given free tickets, but told that we did not have to stay or even go to the game  as long as we made it back in time for the bus to pick us up.
My friends and I have little knowledge of baseball but wanted something to do with our Saturday night, so we stayed for a few minutes, witnessed the first pitch, took a few photos and left to explore Indy. 
Our first mission was a hunt for food. The destination? Chipotle. Chipotle was luckily just a 16 minute walk from Victory Field, but a much longer wait to be served. I ordered a chicken burrito bowl with brown rice, both pinto and black beans, mild salsa, lettuce, sour cream and  guac. It was incredibly satisfying.
After we satisfied our cravings, we still had time before the bus arrived, so we popped over to TJ Maxx to look around. My friends bought some dorm decor and we had a great time! When we got back to the game, the score was 5-1 before  the Clippers scored one last run to win.
While my friends and I had fun in Indy, I felt that I needed the opinion of someone who was at the game for more than 30 minutes in order to gauge the true experience of being there.
 For the hour or so that DePauw student Rana Mujtaba '23 attended the game, he seemed to have a decent time. It was his first baseball game, so he did not understand it very well, but he ate McDonald's and enjoyed time spent with friends. Like myself, Rana was more interested in touring Indianapolis than watching the game, which is understandable since neither of us could follow the rules of the game anyway.
"I wanted to explore Indy. And also it was cold," Mujtaba said after leaving the game early. 
The Verdict: This was a night to remember! Maybe I didn't attend most of the Indian's game that the shuttle was advertised for, but that was part of the adventure. I highly recommend taking opportunities for off-campus outings! As much as we all love sticking to meal swipes and flex dollars and enjoying our beautiful campus, it is also necessary to get "out" once in a while. A change of pace like shuttling to explore Indy or even just walking to a different restaurant in Greencastle might be just what you need.