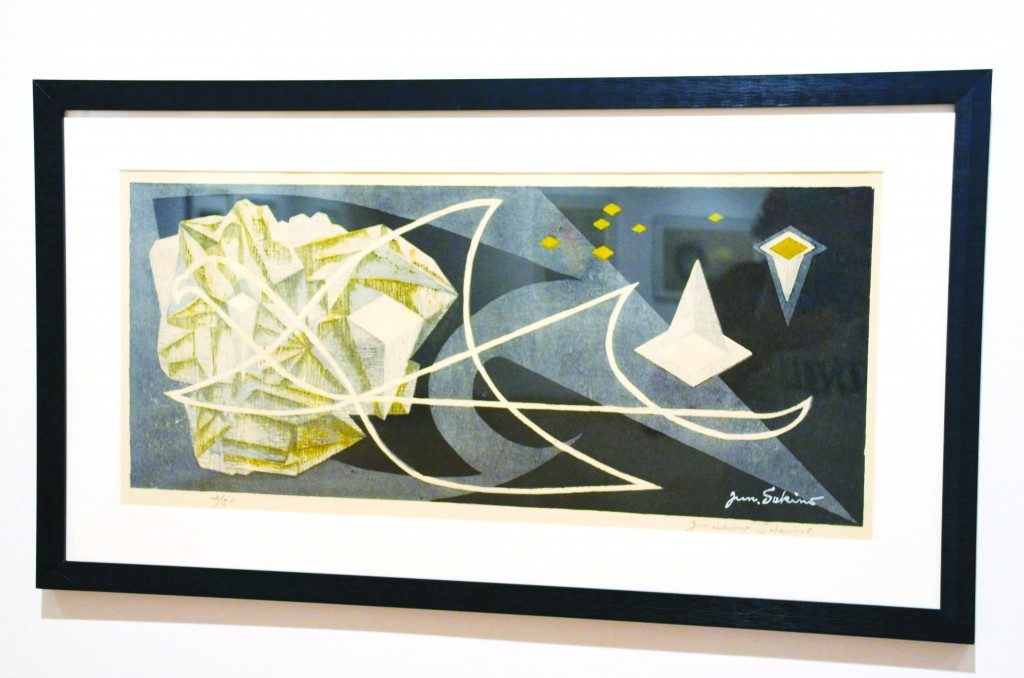 DePauw University possesses one of the strongest collections of post war Japanese prints in the Midwest, and to promote this, Peeler will be publishing an 80 page full-color catalogue of the collection this month. The catalogue is expected to be released on Sept. 20th when alumni and donor for the catalogue, David Prosser, will visit campus to speak with students and faculty.
"Through this catalogue, people will be able to see how strong DePauw's Asian Art collection is," said Peeler Art Center Curator and Director, Craig Hadley. Hadley told The DePauw that Indianapolis Museum of Art (IMA) curators said DePauw's Japanese Modern Art collection was much bigger than the IMA's.
Hadley has spent four years writing grants and choosing 160 pieces of art from DePauw's permanent collection to create a cohesive show. Hadley explained, "Between the 160 art pieces, I was drawn to the abstract works specifically because I felt it would be a good way to bridge Eastern and Western art."
In the catalogue, Hadley wanted to show as many artists as he could with the limited amount of pages. He chose a spectrum of well-known and unknown artists in Japanese print.
The to-be-released catalogue does not show all of the pieces from the Japanese Modern Art collection; more pieces are displayed in the Abstract Traditions: Postwar Japanese Prints exhibit, which is currently on display in Peeler and will be until Dec. 9th.
The catalogue is meant to supplement the exhibit, so it includes prints and interpretive material. "The catalogue is more about contextualization, apart from appreciating and observing the art piece," said Professor of Modern Languages, Hiroko Chiba, coordinator of the Japanese Program.
The catalogue was a group effort composed of Hadley, Chiba, Taylor Zartman '15 and many more students and faculty members. One student involved was junior Tiffany Miller, who worked closely with both the exhibit and the catalogue during her summer internship at Peeler.
Miller hopes this catalogue will inform people about DePauw's collection and encourage them to come visit Peeler. "I just hope people see everything that we've done, it's amazing. The pieces that we have are really beautiful and they're really interesting," Miller said.
This publication is also meant to help students step out of their comfort zone by teaching them more about Japanese modern print instead of the traditional Western art forms. "It is really phenomenal because the catalogue shifts our conversations from being really western to something that's usually unfamiliar for students in the U.S., but familiar for students from East Asia," said Zartman, a former Arthur E. Klaus Collections and Community Intern for Peeler.
Zartman said making the catalogue about non-Western art allows for more international connections to be formed. For Zartman, this catalogue holds her first ever published essay, and she said, "I have a publication at 23, so I'm kind of over the moon about it."
Although Zartman is not the only alumni who contributed to this catalogue. "This project spans many generations between alumni and faculty and students who have contributed as well," said Hadley. The three major donors for the art catalogue are Arthur Klauser '45, Leland Stoddard '40, and David Prosser '65.