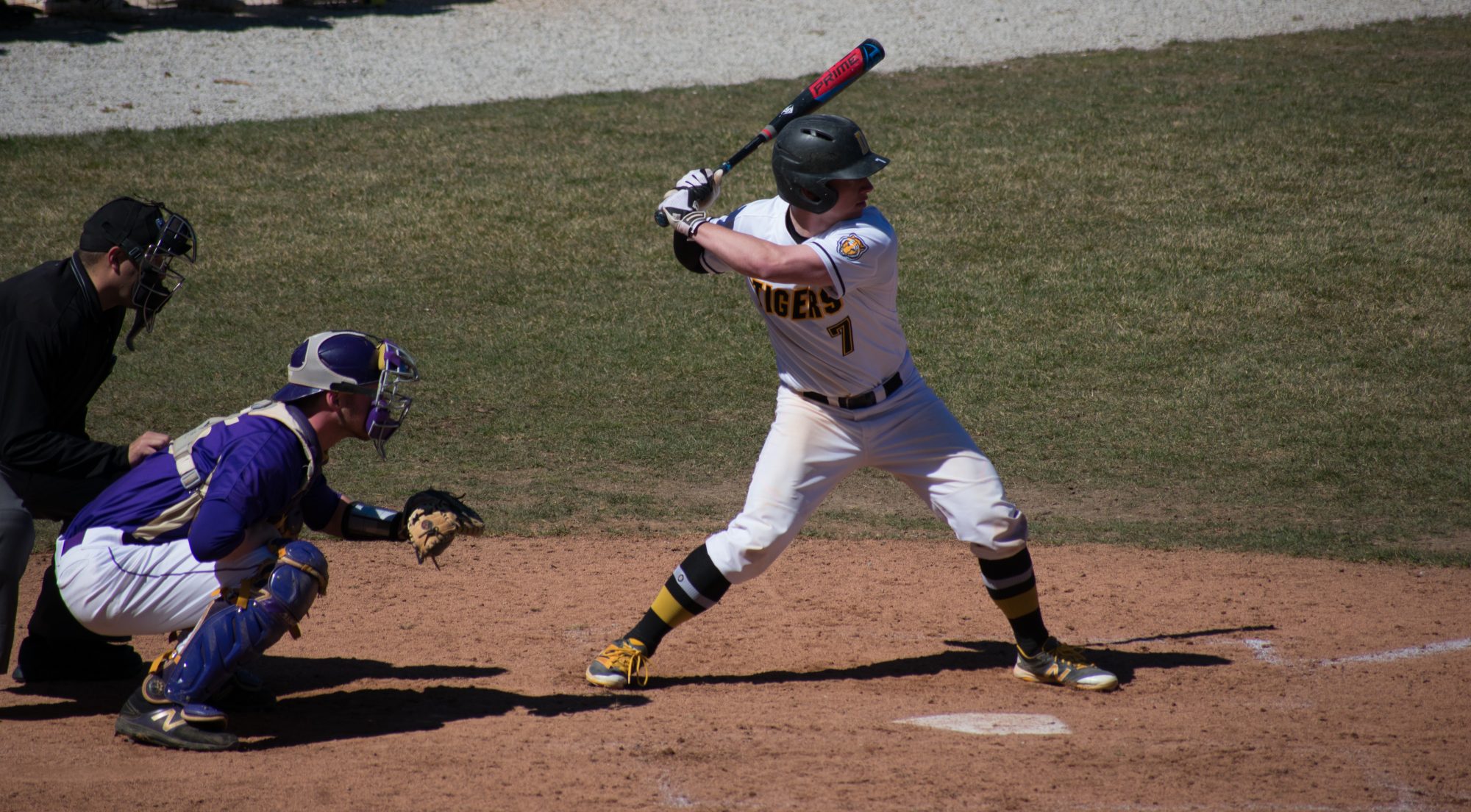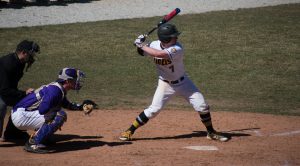 Baseball:
Record: 10-23
After an opening day win over Anderson University, the Tigers were hit with a seven-game losing streak that lasted through mid-March. While DePauw struggled for the majority of the season, the team put together an impressive four-game win streak this past weekend at home, sweeping conference rivals Ohio Wesleyan University and Wabash College respectively in back-to-back doubleheaders.
Senior outfielder Collin Einertson has enjoyed another strong year at the plate, hitting .310 with four home runs and 22 RBIs, while junior pitcher Grant Rademacher (3-3, 3.86 ERA, 51 K) has taken another step toward becoming an ace for DePauw. Rademacher was recently named NCAC Player of the Week for his complete-game, 14-strikeout win against Hiram College.
The Tigers will wrap up the regular season on the road this weekend, playing double-headers against Allegheny College and Thomas Moore College on Saturday and Sunday.
Newcomer to watch for: Outfielder Charlie Patrick. The first-year has already made his presence felt in the Tiger lineup, hitting .365 with 13 doubles and 25 RBI.
Softball:
Record: 20-18
The Tigers struggled with their own losing streak, dropping 11 games in March that included two tough extra-inning defeats and a come-from behind win. DePauw has played significantly better in April, going 12-4 in their last 16 games. Senior Emma Baldwin (8-8, 2.41 ERA) and junior Brooke Bandy (2-0, 3.48 ERA) have once again led the team on the mound, while sophomore pitcher Julia Bork (5-6, 2.82 ERA) is in the midst of a breakout season.
After three straight wins from a double-header against Kenyon College and a Sunday victory over Franklin University, the Tigers will try to ride their latest winning streak through the end of the regular season. DePauw plays their final two games at home against Illinois Wesleyan University on Tuesday.
Newcomer(s) to watch for: Catcher/infielder Becca St. Germain and Infielder Kaylyn Linder. In their first year, the two hitters have combined for 75 hits, 11 doubles, and 41 RBI.
Men's Track: A strong group of sprinters and distance runners currently have the men's team looking its best as the Tigers head into conference this weekend at Allegheny. Senior Polo Burguete is having another strong season, leading the pack in distance, while junior Chase Wright won two big races in the 100-meters and 200-meters last weekend at Denison. The team will also be hoping to get back sophomore Jordan Booker, who's been dealing with a tight hamstring.
Newcomer to watch for: Sam Voelz. The first-year recently broke the school record in the 800 meter, a record that's stood for 50 years. Voelz will play a big role next spring in filling the shoes of the nine seniors set to graduate.
Women's Track: A lack of depth and untimely injuries have had the Tigers battling adversity throughout the season. First-year sprinter Taylor Myers and sophomore distance runner Haley Thompson have both been limited on the track by hamstring issues. After dealing with injuries of her own in past years, senior Cami Etgen has enjoyed a nice season in the 4x1, 4x4, and 400-meter. Senior Meghan Hennessey and sophomores Riley Hickman and Tori Flowers have also shown strong performances on the distance side. The Tigers will also be competing at Conference this weekend at Allegheny.